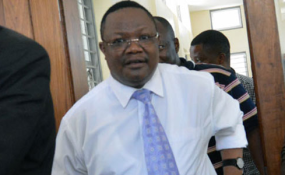 Photo: The Citizen
By Faustine Kapama
THE outcome of the trial of Singida East Member of Parliament (MP) Tundu Lissu, who is charged with abusing the President of the United Republic of Tanzania, Dr John Pombe Magufuli (JPM), by calling him a dictator, will be known early next month.
Resident Magistrate Godfrey Mwambapa, who is hearing the case at the Kisutu Resident Magistrate's Court in Dar es Salaam, was yesterday scheduled to deliver his ruling on whether the MP under Chama cha Demokrasia na Maendeleo (Chadema) has a case to answer or not in respect of the offence charged.
However, the session was pushed to November 16, this year on two grounds, including the absence of the lawmaker, who is currently undergoing medical treatments at Chandaria Accident and Emergence Nairobi Hospital in Kenya.
The other reason was related to the failure of the Chief Whip of the opposition camp in Parliament, to present his submissions after closure of prosecution's case in the matter. Advocate Peter Kibatala, for the MP, undertook to file the submissions in question by October 9.
In the trial, the prosecution, led by State Attorney Paul Kadushi, closed the case after calling five witnesses. One of the witnesses Mr Timos Emekea, a builder, narrated to the court how on that June 28, last year, he went to the Kisutu Resident Magistrate's Court in the city to bail out one of his relatives.
He testified that as he was leaving the court premises after the bail verification session, he saw a gathering with Lissu talking including some journalists and camera men, who were also in attendance.
According to him, as he approached the scene, he was surprised to hear Lissu speaking words that annoyed him and he had to leave the place because he could not wish to continue hearing such words.
Cross-examined by advocate Peter Kibatala, for the MP, on a number of issues, the witness could not remember even the name of the magistrate who was hearing the case of his relative he had gone to bail him out.
According to the charges, Lissu is alleged to have committed the offence on June 28, last year, at the Kisutu Resident Magistrate's Court in Ilala District in the city, when he uttered the claimed seditious words.