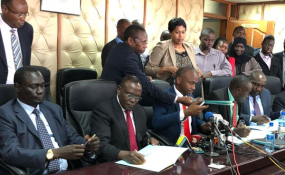 Photo: Elizabeth Merab/Daily Nation
By Elizabeth Merab
Clinical officers have called off their strike after signing a return to work formula with governors and the Health ministry.
For nearly 20 days, the officers downed their tools protesting salaries and remuneration commission's job evaluation cadres.
Speaking at Afya House Thursday, Secretary-General of the Kenya Union of Clinical Officers George Gibore gave their members until Monday to resume duty.
"We are not going back to work because we are happy, but because this is the beginning of having our issues addressed," said Gibore.
"We are still not happy with SRC's grading and ask you, our employer to look into the matter," added Gibore.
Mr Gibore noted that despite being on strike, the clinical officers, just like the rest of the public were financially straining to access treatment in private facilities.
By calling off the strike and resuming duty, the public will now be able to access services in the affordable public facilities. However, the clinical officers will only be able to offer outpatient services as they wait for the nurses who bear the burden of inpatient services call off their industrial action.
Health Cabinet Secretary also called on the striking nurses to follow in the footsteps of their colleague and go back to the negotiating table to iron out the differences they have with their employer.