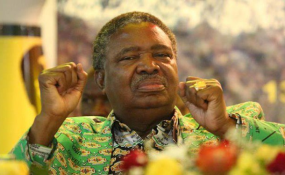 Photo: The Herald
By Wendy Muperi
MDC-T has condemned vice president Phelekezela Mphoko's the attack on the Zimbabwe Anti-Corruption Commission (ZACC), describing it as inappropriate for such a highly ranked government official.
Without disputing allegations raised against him, Mphoko complained a few days ago that ZACC seemed obsessed with investigating him and higher education minister Jonathan Moyo while ignoring many other corrupt people.
However, opposition MDC-T spokesperson, Obert Gutu, said Mphoko's remarks were rooted in a selfish agenda aimed at getting rid of the corruption watchdog to serve a factional agenda and himself from answering to his corrupt deeds.
"His hands are extremely dirty and tainted because he should actually be investigated by the ZACC for his alleged criminal activity of 'ordering' the release of incarcerated accused persons from police custody at Avondale Police station in Harare some few months ago," Gutu said on Tuesday.
"Put bluntly, Mphoko has a prima facie criminal case for which he should be held accountable. He cannot seek to intimidate and bulldoze his way into the manner in which the ZACC carries out its investigations.
"This would be like Satan standing behind the pulpit of a Christian church and preaching the gospel of love and repentance."
ZACC is investigating Mphoko for ordering the release of Zinara bosses nabbed for fraud while Moyo is facing charges of diverting Zimdef, allegations he has admitted to.
The investigations have been reduced into a factional war and the First Lady has since ordered ZACC off Moyo.
ZACC is a constitutional commission whose main functions are to investigate and expose cases of corruption as well as combat corruption, theft, misappropriation, abuse of power and other improper conduct in the public and private sectors.
Gutu said the vice president should lead by example in following the spirit of constitutionalism as set in the supreme law.
"As one of the two state vice presidents, we expect Mphoko to be familiar with the letter and spirit of the supreme law of the land. The MDC is deeply appalled by this level of misguided arrogance and ignorance on the part of Mphoko," he said.
Transparency International recently ranked Zimbabwe amongst the five most corrupt countries in the world that include Afghanistan and Venezuela.
Instead of disempowering ZACC, Gutu said his party expected that the anti-corruption body, which has in the past been labelled a toothless bulldog, should be capacitated to investigate more cases of corruption.
"There should be absolutely no sacred cows. Some people have imported expensive Rolls Royce motor vehicles into the country using the proceeds of illicit funds and ill-gotten wealth," said Gutu.
"We also have received reports of some people who have gone on a property buying spree in posh districts of South Africa as well as overseas. It is these kind of criminals, crooks and wheeler - dealers who must be investigated and brought to book by the ZACC."
Grace Mugabe and her son with former husband and army officer Stanley Goreraza, Russell, reportedly imported Rolls Royces. The First Lady has also been said to have purchased properties worth $8 million.