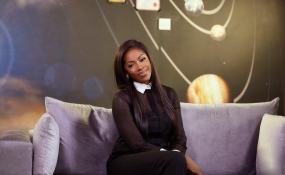 Photo: Tiwa Savage/Instagram
By Idoko Salihu
Nigerians on Twitter are currently having a heated debate over Tiwa Savage's comment on gender equality.
In a recent interview with The Beat 99.9 FM, the award-winning singer and mother of one made her stance on the subject matter very clear.
"... I also don't think men and women are equal. I don't think that's how God created us, especially in the household anyway. So I think as females when we realise that yeah we can be strong as female in our career and stuff, but when we are home we have to realise that the man is the head of the house.", she said.
This comes days after she reacted to making BBC top 100 women list.
In her reaction, Tiwa Savage called on women not to allow their role as women in society limit them from harnessing their full potential.
"Don't let being a woman hinder you, I have and still have to fight to get people to respect and appreciate my work and not limit me because I am female so this really encourages me to keep pushing and breaking boundaries," she said.
Though this remains a strong debate worldwide, it seems most Nigerians on Twitter are in support of the Mavin Records first lady.
Read the diverse reactions below:
"Days after Sister Chioma of Aba Dioceses rubbished Nigerian Men, Sister Tiwa Savage of Lagos Dioceses has come to set the records straight"
"Nigerian female celebrities are sooooo disappointing on gender issues. My God. Kai."
"The man is the head of the house." - Tiwa Savage The truth is always bitter, Thanks Tiwa."
"Question is, Is your Father not the head in your family? Please leave Tiwa Savage Alone. She's Nigerian & Christian and that's what we know"
"Most of d ladies castigating Tiwa Savage are d same ladies tht goes 2 their boyfrnds house 2 do chores they can't even do for their parents."
"Tiwa Savage, don't mind them. Some ladies will promote gender equality but when its time to get the latest iPhone, they become submissive!"
"women that believe they're equal with a man will most definitely have issues in their relationships/marriage... leave Tiwa savage abeg"
"Tiwa savage believes "the men are the heads of the house and men and women are not equal".That's her opinion and everyone should respect it."
This thing Tiwa Savage said about men being the head of the Family is sweeting me like Sugar Cane
"Wives, submit to your husbands, as is fitting for those who belong to the Lord" I guess this is what Tiwa Savage is trying 2 communicate but what should will do to the SCUM gang??"
"Tiwa Savage said "The man is the head of the house", & You're disappointed in her,bcos you're a feminist & woke twitter. Pray for Good brain"
"So really everybody Crucifying Tiwa Savage yeah? But let us be Realistic are Women really Equal to Men? Can Nigerians Be Factual for Once!"
"Some people are so jobless, they have nothing productive to do other than check Twitter trends and write gibberish! Tiwa Savage spoke intelligently on the interview with Toolz. Her opinion is 💯hers. Go find yours."
"Tiwa savage said her own as regards whatever. You claim to be woke and open minded You dey attack person ontop her own opinion Tueh"
"Even those of you that will still go to church on Sunday and hear the same thing Tiwa Savage said from your pastors are dragging her"
"Tiwa Savage expressed her mind in that interview. One Orubebe feminist had to disagree by insulting Tiwa's husband. Aiye o le to yi now."
"The man is the head of the house." - Tiwa Savage You can be disappointed if you like and that's fine. She said the truth."
A Twitter user, Dr. Dipo is clearly not interested in the whole argument as his tweet suggests he is more interested in the Kachikwu vs Baru controversy.
"This Tiwa Savage gist can wait. This NNPC, Ibe Kachikwu vs Baru issue must not be swept under the carpet just like that. Stay woke o."
"Tiwa savage is right. even GOD did not Made man and woman equal. This is Africa not Western"
"Of course the man is the head of the home Bible said it Our parents upheld it Tiwa Savage confirms it And you disagree? Who are you?"
"Kachikwu and baru has been pushed aside, and now Tiwa Savage's comment is the one you're chewing like chewing gum."
"You have 'Jesus is bae' in your bio but you would vilify Tiwa Savage for saying "Husband is the head of the house"; what's wrong with you?"
"Ibe Kachikwu finally disappears from Twitter trends after 2 days.. Thanks to Tiwa Savage, Men and women are truly not equal. 😂😂😂 "