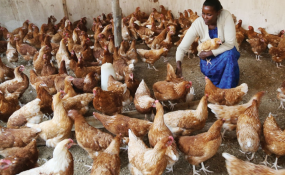 Photo: The Ethiopian Herald
By Emmanuel Ntirenganya
Experts have called for adoption of better approaches to address antimicrobial resistance (AMR) in poultry.
The disease is said to be affecting small-scale farmers in Africa as they do not have means or skills to control and better manage their farms.
The experts were speaking during "Poultry Africa Expo 2017." The two-day conference in Kigali ran alongside with a leadership conference and technical best practices in the sub-sector.
Mohammad Rafiqul Islam, the principal scientific officer for livestock at Bangladesh Agricultural Research Council, said in developing countries people use antibiotics anytime there is a disease outbreak in poultry without accurate testing, yet antibiotics can only be recommended after proper testing.
AMR refers to micro-organisms - bacteria, fungi, viruses, and parasites - that have acquired resistance to antimicrobial substances.
It is attributed to lack of regulation and oversight; poor therapy adherence; non-therapeutic use; over-the-counter or internet sales, and availability of counterfeit or poor-quality antimicrobials.
The consequences of AMR include failure to successfully treat infections, leading to increased mortality; more severe or prolonged illness; production losses; reduced livelihoods and food security and higher costs of treatment.
The health consequences and economic costs of AMR are estimated at 10 million human fatalities annually and a 2 to 3.5 percentage decrease in global Gross Domestic Product (GDP), or $100 trillion, by 2050.
Ruwan Berculo, the manager for VIV Worldwide, a company linking producers from feed to food, said it is essential for farmers to reduce the use of antibiotics as it is an indication of proper management of farm.
He said the use of such antibiotics is not going to be accepted anymore by the retail and food manufacturers.
The exhibition focuses on technologies that can help increase production of poultry meat or eggs in sub-Saharan Africa.
"The leadership conference addresses leaders in Africa to connect with other leaders in the world to understand what challenges we are faced with here in Africa," he said.
Ayao Missaohoou, a researcher at Ecole Inter-Etats des Sciences et Médecine Vétérinaires de Dakar, admitted that there has been a problem of diseases and growing antibiotic resistance, and wrong utilisation of antibiotics in Africa.
"We have a problem of disease diagnosis," he said, calling for measures to address the problem.
The Director-General for Animal Resources Department at Rwanda's Ministry of Agriculture and Animal Resources, Théogène Rutagwenda, said Rubirizi-based laboratory (in Kigali) has been helpful in carrying out diagnosis and preventing poultry diseases.
"But it (preventing the diseases) is a continuous process; it is to teach our people about hygiene, and proper use of drugs, especially antibiotics," he said.
Péragie Nirere, a poultry farmer from Nyagatare District, told The New Times that vaccination and hygiene in chicken farm, coupled with proper feeding, are key to preventing farmers against poultry losses.
On average, the losses from disease in rural poultry in Africa amount to about 75 million chicks, guinea keets and ducklings each year, as per information from FAO.