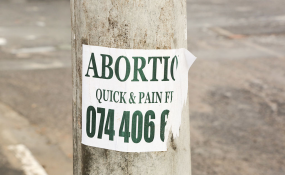 Photo: Wikipedia
By Eugene Kwibuka
Procuring abortion under specific circumstances is set to be easier if proposed changes to the Penal Code getting the backing of Parliament.
The provisions on aborttion is part of a raft of amendments contained in revised Penal Code, approved by Cabinet meeting chaired by President Paul Kagame on Wednesday.
In 2015, the Government, through the Rwanda Law Reform Commission, embarked on a review of the Penal Code as part of efforts to keep the country's laws up-to-date.
Officials say the Penal Code - the legal law defining crimes and stipulating punishment - is being changed to make it more effective in deterring crime, punishing convicts, and rehabilitating offenders.
Once the draft law is tabled in Parliament, which is now the next step in the process to amend the Penal Code, a great deal of issues will be discussed, including how to best penalise abortion, prostitution, adultery, genocide ideology, as well as corruption and embezzlement.
Specifically on abortion, the draft law seeks to do away with having to get court permission before carrying out an abortion when it's already legally accepted in specific cases of rape, forced marriage, incest, and when it could be dangerous to the health of the baby or the mother.
"We struck off the court requirement because it wasn't helping the victims of such cases," the State Minister for Constitutional and Legal Affairs, Evode Uwizeyimana, told The New Times yesterday.
On prostitution, the amendment proposes to criminalise those who get young people, especially girls, to engage in commercial sex activity, a move that aims to protect the country's youth from pimps.
Adultery
With regard to adultery, the proposed change to the law is to remove the Penal Code's imprisonment provision for the offenders because marriage is a civil arrangement and inability to fulfil one of its commitments should not lead to imprisonment but rather to civil action.
On genocide ideology, the proposed changes seek to bring genocide ideology offences and penalties into the penal code since they are currently only catered for under a separate law.
The proposed amendment to the Penal Code also seeks to include embezzlement among forms of corruption so it can be punished as a corruption case just the same way as bribery.
The Bill has also sought to introduce heavy punishments for emerging and sophisticated crimes in today's Rwandan and global society such as human trafficking, offences against children, terrorism, and those related to cyber security.
Minister Uwizeyimana said the draft law will be tabled in Parliament "as soon as possible" as part of efforts to fast-track its enactment.
"The next stage is to send the bill to Parliament and we want it to happen as soon as possible, possibly next week," he said.
The Penal Code will thus be amended to ensure that issues of drafting and clarity, current offenses and their penalties, as well as new offences in society that need to be penalised are addressed.