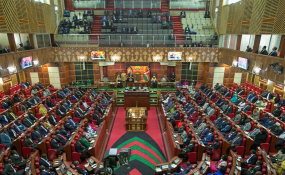 Photo: Capital FM
By David Mwere
The Parliamentary Service Commission has opposed plans by the National Treasury to cut its budget by Sh9.2 billion to fund fresh presidential election on October 26 .
Parliament was allocated Sh36 billion to finance its operations in the 2017/18 financial year budget.
PSC secretary Jeremiah Nyegenye, who is also Clerk of the Senate, and his National Assembly counterpart Michael Sialai, said that the cut will ground operations and essential services of the Legislature.
The two spoke when they appeared before the special committee of the National Assembly that is processing the supplementary budget to finance the fresh presidential election and free secondary education, among others.
Parliament's flagship project - the construction multi-storeyed building to provide offices for MPs - has been hit the most.
STOP FURTHER WORKS
The National Treasury wants Sh2.5 billion as provided in the 2017/18 budget for completion of the building scrapped, a move that is likely to stall the project.
"If the supplementary estimates are passed as proposed by the Treasury, Parliament will have no option but to ask the contractor to stop any further works until adequate budgetary provision is made," Mr Nyegenye told the MPs.
He added: "We are wondering how we will operate considering that we are in the first quarter of the financial year. We may close and go home. We are comfortable with zero reduction."
REDUCTION
Mr Nyegenye and Mr Sialai protested the allocation of only Sh500 million towards the office block from Sh2.5 billion terming it a mockery.
Parliament is among government institutions that were hit hard in the budget reductions to finance projects that also include drought mitigation and provision of funding for the Jubilee's promise of enhancing the social scheme for the elderly.
The Treasury has proposed a net reduction from Sh3.2 billion to Sh737.5 million on parliamentary spending.