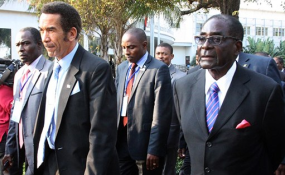 Photo: New Zimbabwe
President Ian Khama's government has taken umbrage at President Robert Mugabe's snide remarks about the Botswana leader but said in a cheeky formal response Thursday it will not confront the 93-year-old leader because of his advanced age.
Addressing a Bi-national Commission he co-chaired with South African President Jacob Zuma this week, President Mugabe said Botswana's Foreign Minister, Dr. Pelonomi Venson-Moitoi, lost her bid to become African Union Commission chair because of Khama's half-hearted approach to continental affairs.
Venson-Moitoi was the Southern African Development Community (SADC) candidate.
The elections were meant to replace South Africa's Nkosazana Dlamini-Zuma who had stepped down to concentrate on her bid to become ruling ANC leader and subsequently State President.
Venson-Moitoi lost to Chadian Moussa Faki Mahamat.
Mugabe said in his customary candid comments that Khama was the missing link in an all regional push for Venson-Moitoi to land the powerful post.
He said the Batswana leader did not lobby enough for his minister, over and above his continued reluctance to attend AU meetings.
"The poor lady couldn't do what Madam Zuma had done. We worked hard. They worked hard, sweated. They sweated, you sweated, we sweated [sic]. One man did not sweat. He stayed at home and expected wonders would happen. They didn't happen," he said.
He said they were sorry about Venson-Moitoi's loss.
"Everybody just said, 'you, we have not seen your President here. He doesn't attend our meetings and what would happen if we placed our organisation in your hands, in his hands. So sorry lady, we won't give you the votes. She worked hard. She was very sorry to lose. We were also very sorry because we knew in advance that we were trying an impossible one," Mugabe said.
But the Khama government said, through its International Affairs and Cooperation ministry, Thursday that Mugabe's comments were both "inaccurate and unfortunate".
"... In this connection, the Government of Botswana has taken note of the comments and regrets these inaccurate and unfortunate remarks.
"However, the Ministry chooses not to comment any further out of respect for President Mugabe's advanced age and as such, understands that allowances need to be made," read the statement.
While the Khama government appeared not be restraining itself from any public spat with the Zimbabwean leader, comments that Mugabe was too old to quarrel with could be seen as dismissive of the world's oldest State leader.
Khama has never shied away from any public confrontation his neighbour, often accusing him of dictatorship and clinging on to power.