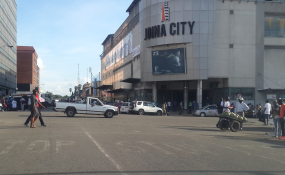 Photo: Jerry Chifamba/AllAfrica
Germany ambassador to Zimbabwe, Thorsten Hutter, has warned Harare against crushing citizens' political and economic rights.
These rights entail freedom of citizens to associate with social and political movements of their choice and political tolerance from the ruling elite.
Economic rights on the other hand include full enjoyment by citizens of the fruits that come out of good governance and proper management of national resources and this may include right to employment and decent salaries to setting up one's income generating projects.
These rights have not been fully enjoyed by citizens since the turn of the millennium when Zimbabwe saw the emergency of the strongest opposition MDC formed by workers, student union leaders and the civil society.
Government since then has been enacting laws that stifle political freedom which in turn have either directly or indirectly affected the economy.
Addressing diplomats, government officials, the academia, politicians and civil society members gathered at his Harare embassy residence to witness his country's national day, on Wednesday, Ambassador Hutter said it was critical for Zimbabwe to value political rights of its citizens.
"We believe that the wellbeing of a people is not just a domestic affair and here I do not simply mean human rights in the sense but also political human rights, economic and social human rights, and the exercise of the so called universal periodical review where the human rights situation of country by country is scrutinized by peer governments underlines this fact," he said.
The envoy said Germans were keen to invest in Zimbabwe and challenged Harare to improve its ease of doing business.
"For investment to take place conditions have to be favourable and Germany seems ready to support initiatives in Zimbabwe to this end and of course development organizations are here to assist, and all of them are here, GIZ, Germany Afro-action you name them.
Development organizations which are into agriculture are not here only to empower people on how to grow crops, but also to help them to market their produce and I hear that together they reach out to more than 1 million people," he said.