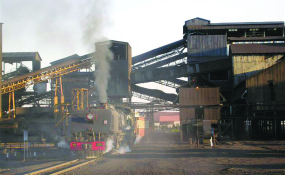 Photo: The Financial Gazette
By Taurai Mangudhla
Zimbabwe Stock Exchange-listed coal miner Hwange Colliery Company (Hwange) is targeting produce 400 000 tonnes of coal per month by the end of 2017 following a ten-fold jump in production over the past nine months. Building on the success of its acquisition of $31,2 million worth of equipment in June 2015, expected to raise monthly coal output to 500 000t from 300 000t and drive the company to profitability, Hwange said it was on course to breach current production levels of 300 000t a month to hit 400 000t per month in 2018.
Hwange acquired heavy duty mining equipment from Belarusian manufacturer of haulage and earthmoving equipment BELAZ and Indian firm Bharat Earth Movers Limited (BEML) under vendor-financed facilities from PTA bank and India Exim bank, giving the company a new lease of life.
"By the end of the year, we expect to have resumed underground mining operations. Our production target will be 400 000t per month going into 2018 and we will rebalance the mix of thermal, industrial and coking coal so that our profitability is maximised," Hwange Colliery managing director Engineer Thomas Makore told The Herald Business. Engineer Makore said the contribution of coke production from the Hwange Coal Gasification coke oven battery is seen enhancing the company's profitability.
"Our goal is to increase the contribution of export revenues from the sales of coking and industrial coal as well as coke. We will also be commencing exploration and drilling of the Western Areas coal concession in this quarter," he said. Hwange in June 2015 received new equipment from BEML India consisting of excavators, wheel dozers, front end loaders, water bowsers, grader and drill rigs. The company also received 130t dump trucks from Belaz, Belarus, together with front end loaders and wheel dozers.
Engineer Makore said the company has gone up the learning curve in terms of the utilisation, service and maintenance of these machines. The excavators, he said, have performed well on shale and coal mining while the dump trucks have proved to be very reliable for both overburden and coal movement, contributing to the increase in production this year that moved from around 30 000t per month in the first quarter of this year to 300 000 tonnes per month in the third quarter. Hwange has enjoyed operational efficiencies from the new equipment.
"The excavators are high capacity and the dump trucks are diesel-electric. It means that we have enjoyed the benefit of lower cost per ton because of the high capacity and the lower fuel consumption," Engineer Makore said. Following the successful launch of the Scheme of Arrangement, Hwange's loans have been converted from short to long term. In terms of the Scheme, Hwange is on track with loan payment plans except foreign loans that require foreign remittances. The scheme of arrangement approved the staggering of the coal miner's debt which amounted to about $35 million in May this year.