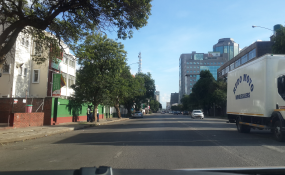 Photo: Jerry Chifamba/AllAfrica
By John Manzongo
Government has struck a deal with chemical companies through which they will be able to access foreign currency to import agricultural chemicals that will be sold at subsidised prices, VP Mnangagwa has said.
He was responding to complaints by farmers in Matabeleland North Province while touring ARDA Jotsholo Estate yesterday. The farmers said their maize seed crop was being affected by armyworms. They said companies selling pesticides were demanding payment in foreign currency.
"On Wednesday night we had a meeting with Reserve Bank of Zimbabwe Governor Dr John Mangudya and some few chemical companies have been found and are willing to import chemicals," he said.
"Some companies have funds outside the country and are willing to release the funds for Government's use. So, farmers, do not be worried. Government will assist you in whatever you need."
Vice President Mnangagwa said the country had also taken a deliberate approach to ensure that agricultural seeds were grown locally, which will help to ensure the manufacture of seeds suited for the country's various geographical regions.
He said it was critical for the private sector to partner Government in securing food reserves for the country as this was crucial to national development.
"I am happy at the progress that I have seen at ARDA Jotsholo Estate, they have made tremendous achievement in a very short time," said VP Mnangagwa.
"Almost two years ago when we started production, there was only 100 hectares and we agreed that in four seasons we must have 500 hectares of crop under irrigation, but in just two seasons they are already at 400 hectares. They now have wheat seed, seed maize, potato seed and tomato seed. I have no doubt that if we continue at this rate this nation will return to its breadbasket status in no time. In Matebeleland South, we now have 1 000 hectares under irrigation."
VP Mnangagwa said Government had secured funds and equipment for construction of new dams, including desilting existing ones as a deliberate move to exorcise reliance on rain-fed agriculture.
"Government, under the visionary leadership of President Mugabe is aware of the problem of siltation in many dams and rivers in Matebeleland North and South and we tasked Ministry of Water, Environment and Climate, headed by Minister Oppah Muchinguri, to look into the issue," he said.
"Every district will have dams and as we speak, we have a programme on equipment and funds from Belarus and Brazil to help us. We want to reach over 300 000 hectares of land under irrigation so that whether it rains or not we will still have food on our table. This province is in region 5 and we want to make sure that it is not disadvantaged because of its poor rainfall patterns. We will put in place sufficient irrigation schemes. We have elections next year and all these programmes are nationwide, where we have Presidential Inputs Scheme, where every household gets inputs to farm for free, and then the Command Agriculture, which is more serious. We give you seed, chemicals, diesel, fertiliser and irrigation equipment and when you harvest we recover our costs. We had struggled for many years to sufficiently feed our nation, but this year even without finishing harvesting, all Grain Marketing Board silos are full. We now have more than 2,6 million tonnes of grain. The money we used to import food is now being channelled to other important things."
Vice President Mnangagwa also said Government had spread Command Agriculture to include livestock, where interested farmers can apply for assistance from Government to rear different livestock such as cattle, goats, pigs and chicken among others.