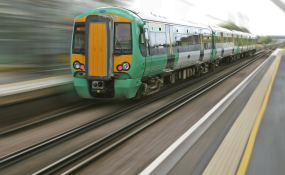 Photo: Pixabay
By Omololu Ogunmade
Abuja — The federal government needs a whopping $16 billion to boost operations in the transport sector, The Minister of Transport, Rotimi Amaechi, disclosed thursday.
He also said with the current plans to move cargoes between Apapa seaport and Lagos Island, the acute traffic gridlock on Apapa roads would ease off come December.
Amaechi made this disclosure while answering questions from journalists in the State House after briefing President Muhammadu Buhari on the state of events in the sector.
He said despite appropriations for the sector, the ministry has to look for alternative ways of sourcing funds to enhance operations in the transport sector.
According to him, the ministry is considering private public partnership (PPP) to realise its plans for the sector as he disclosed the necessity to construct two deep seaports in Bonny, Rivers State and Warri in Delta State.
He also said PPP initiative was being considered for Port Harcourt Railway Industrial Park but expressed doubts if that goal could be achieved as a result of the huge cost involved.
"There are approvals for our sector but we have to look for the money because the money is not just there. We need about $16 billion dollars and we can't just pluck that from the sky.
"We will try and see if we can get PPP especially as it pertains to the seaports. There are two deep seaports that were approved - the Bonny and Warri deep seaports.
"As for the Port Harcourt Railway Industrial Park, we should also be able to get that done through PPP even though I doubt if we will be able to get railway as PPP because it is quite expensive," he said..
Amaechi also said with the ongoing plans to commence movement of cargoes between Apapa seaport and Lagos Island, the traffic gridlock on Apapa road would disappear before December.
"In terms of the narrow gauge, if not for a hitch, we would have commenced trucking of cargo from Apapa seaport - Ebute-Metta - Lagos and take away the challenges we are having with Apapa gridlock and bad road. That will happen before December," he said.
He also said the federal government would bring more coaches and locomotives into the country before the year ends to boost rail transport across the country.
On his meeting with Buhari, Amaechi said the president was very pleased with developments in the transport sector, pointing out that the president has vested interest in rail transport and hence, needs to be frequently updated on developments in that segment.
"The president sleeps and wakes up thinking about our railways; therefore I must always see him and tell him how far we have gone. Once he hears the progress that is being made, he feels happy.
"He is also very pleased with what we have done in terms of the narrow gauge. Between now and December; we are bringing in more locomotives, coaches and wagons to ensure efficiency in the narrow gauge.
"We are expecting 10 for Kaduna-Abuja axis and another seven, which will hopefully go to Itakpe-Warri because we believe that by June, that axis should also come alive," he added.