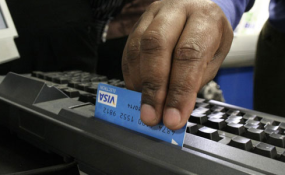 Photo: The East African
By Africa Moyo
The Reserve Bank of Zimbabwe (RBZ) is considering importing more Point of Sale (POS) machines as part of grand efforts to increase transaction points and arrest the high costs being levied by traders. This comes as 75 percent of transactions in the country are now conducted through non-cash payment systems which include POS, mobile money, and Real Time Gross Settlement (RTGS).
Finance and Economic Development Minister Patrick Chinamasa told the National Assembly last week that allegations of banks and merchants overcharging consumers when transacting using electronic means of payment have been "brought to our attention and we continue monitoring to ensure compliance".
"It is important to highlight that the POS machines are owned by banks and their prices range from $100 to $300. The RBZ is prioritising the importation of POS machines," said Minister Chinamasa. Currently, there has been a 189 percent increase in the number of POS machines deployed across the country, rising from 16,363 in 2015 to 47,362 by end July 2017.
Similarly, there is a corresponding surge in POS transactions, jumping from 398 986 in 2009 to 181 251 082 (annualised). The sharpest rise in POS transactions was witnessed from last year when they rose from 53 407 464 to 181 251 082 this year. This followed an acute shortage of physical cash resulting in the RBZ encouraging citizens to use plastic money for their transactions to reduce demand for cash. Without giving figures, Minister Chinamasa said Government still wants more POS machines to be deployed across the country so that all traders make use of the machines to smoothen transactions.
"We are still going to increase and import POS machines so that there is no excuse for not using them. Members of the public should report to the RBZ excessive charges levied by banks on POS machines," he said. Some wholesalers and retailers are putting a premium of up to 30 percent when consumers are purchasing using electronic forms of payment, with products being considerably cheaper when one uses physical cash. The price of goods when engaging in electronic payments is usually high as traders allegedly try to encourage consumers to use cash, which will in turn be used for rent-seeking behaviour.
RTGs transfers have also risen from 688 288 in 2009 when the country adopted multiple currencies to 5 351 491 so far this year in 2017. In value terms, RTGs transactions were $6,8 billion in 2009 and have jumped to $56, 3 billion in 2017. Total electronic transfers moved from 1 665 010 in 2009 to 744 262 931 this year while in terms of value, they have moved from about $6,9 billion in 2009 to just over $80 billion this year.