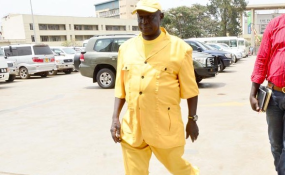 Photo: Alex Esagala/The Monitor
By Anthony Wesaka and Betty Ndagire
Kampala — Arua Municipality MP Ibrahim Abiriga is expected before City Hall Court this morning to answer to criminal summons in connection with urinating in a public.
MP Abiriga, who has lately been in the news for being an ardent supporter of the proposal to lift presidential age limit from the Constitution and for dressing in bright yellow, the NRM party colour, promised to show up in court without fail.
According to Section 27 of the Local Governments (Kampala City Council) Maintenance of the Law and Order Ordinance, 2006; Abiriga on conviction, faces a fine not exceeding two currency points (about Shs40,000) or imprisonment not exceeding two months or both punishments.
"Any person who contravenes any of the provisions of this Ordinance or of any requirement or instruction lawfully made or issued under this Ordinance or of any of the conditions of a licence, permit or authorisation issued under it commits an offence and is liable on conviction to a fine not exceeding two currency points or to imprisonment not exceeding two months or both," reads in part the law.
About a week ago, prosecution at City Hall Court summoned the legislator to appear in court today for allegedly being a nuisance when he urinated on the perimeter wall fence of the Finance ministry.
The lawmaker has admitted in a televised interview to have stopped and eased himself since he was badly off.
"I was badly off. Should I have kept urine on myself? What is the problem with that?" Mr Abiriga said.
His confession came after several pictures of him urinating on the roadside went viral on social media platforms. The charges will today be read to him and he will be asked to plead to them.
Should he plead guilty, the prosecution will read out the summary of what transpired while committing the offence and thereafter; court passes a sentence against him.
On the contrary, should the MP deny the charges, he may be released on bail or be remanded to prison. If that is the position, court will then give the prosecution time to conclude its investigations and have the matter go on trial before a final judgment can be passed.