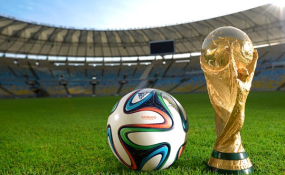 Photo: Daily Monitor
By Jide Alaka
This is in no way disparaging the quality of the Chipolopolo of Zambia. But if we talk about the value of the parts that make up the teams, then Nigeria's Super Eagles are way ahead of their opponents.
But the Zambians are chasing a first ever World Cup appearance. And their coach, Wedson Nyirenda, believes his 'young' team can catch the Eagles cold in Uyo on Saturday.
"We know you beat Cameroon here, but we also know you lost to South Africa at the same venue," Nyirenda told Complete Sports in Uyo on Thursday.
On a first look at the Zambian team, the first assumption is to say there is nothing to fear. But the Super Eagles need to be cautioned; at this juncture they cannot underestimate the Zambians.
There really is no standout player amongst the Zambians, but they have a good work ethic and very fast strikers - like the 18-year-old Patson Daka, who got the goal against Algeria in Constantine last month.
Which is why talk from the Eagles' camp, especially from Captain Mikel Obi helps one to keep at rest.
"The talking will be done on the pitch. I have no doubt we have the quality to achieve victory, but we will not make the mistake of underrating the Zambians," Obi said at Thursday's media parley.
The Eagles probable 11 is loaded with players who if they are not world-class are just a little short. Victor Moses has come into his own - shown by his five-star performances for the Eagles, especially the two matches against Cameroon last month.
A football website, Transfer Market, postulates that Moses' present worth is about N 7.6 billion ($21 million) while the player with the greatest worth in Zambia's probable 11 is Stopilla Sunzu, at N650 million ($1.8 million).
That illustrates the chasm in worth between the Nigerians, whose entire squad is estimated to be worth around N47.5 billion ($132 million) while that of the Zambians is estimated to worth a 'mere' N2.8 billion ($7.8 million).
What the Nigerian football fans would be praying and hoping for is that this gulf in worth would be proven with goals at the Godswill Akpabio Stadium in Uyo on Saturday.