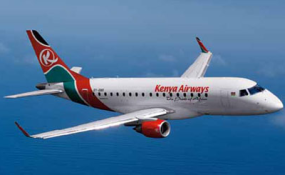 Photo: Capital FM
By David Kwalimwa
Sports federations are still shuttling national teams to global destinations for international assignments via foreign airlines, a month after the government unveiled what it termed as an "attractive and affordable" deal with national carrier, Kenya Airways, for the same purpose.
The Sh4 billion deal was unveiled on September 7 by both Kenya Airways regional general manager Grant Onyango and Sports Principal Secretary Peter Kaberia, who also announced at the launch that the arrangement would take "immediate effect."
Under this arrangement, the government is expected to purchase air tickets for the various national teams.
But then, a spot-check conducted by Nation Sport over the past week suggests the sports federations still settle for foreign airlines as preferred service.
For instance, the national women volleyball team on Thursday departed Nairobi to compete at the Africa Nations Championship in Cameroon aboard Ethiopia Airlines.
Similarly, the national football team, Harambee Stars, is currently in Iraq to compete in international friendlies against Iraq and Thailand with the 34-man squad having made its way to Asia aboard Qatar Airways. And these are not the only examples.
The national golf team will depart for Zimbabwe via Addis Ababa to compete at the biannual Victoria Golf tournament aboard Ethiopia Airlines.
So will the men's national volleyball team when they head to Egypt for the Africa Nations Championship on October 20's Mashujaa Day.
"Normally we go for the cheapest alternative when purchasing air tickets for our teams," Kenya Volleyball Federation president Waithaka Kioni explained.
Kaberia said the government was encouraging federations to take up the Kenya Airways deal.
CERTIAN CONDITIONS
"You know we are trying to push and encourage all federations to take up this deal," Kaberia added.
"There are certain conditions that have to be met between us and KQ (Kenya Airways). We have to avail a full calendar of sports events to our national airline in advance, agree on a payment structure and schedule.
"Please also note not all the teams going out are supported in the same way. Some federations prefer purchasing their own tickets," he added.
Analysts believe this arrangement between the government and KQ was brokered to aid the financially strapped airline remain afloat.