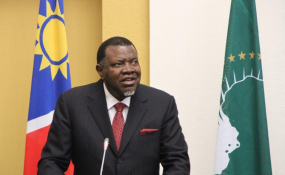 Photo: Parliament of Namibia
Windhoek — President Hage Geingob has been invited to deliver remarks at the House of Lords - the upper house of the parliament of the United Kingdom - as part of the BURJ CEO Business Summit on 10 October in London.
"The President is expected to deliver remarks around Brexit at the Upper Chamber of Great Britain's bicameral legislature, the House of Lords," Albertus Aochamub, the president's spokesperson, said late yesterday.
British Prime Minister Theresa May, Sheikha Bodour bin Sultan Al-Qasimi from the royal family of the Emirate of Sharjah and Khalid Mahmood, a British Labour Party politician who has been the member of parliament for Birmingham Perry Barr since 2001 and a shadow minister for Europe, will also address the high level delegation.
President Geingob is the only African leader invited to address the forum, New Era understands.
"On the margins of the event, President Geingob is scheduled to have bilateral meetings with the Prime Minister of the United Arab Emirates and Ruler of Dubai, His Highness Sheikh Juma Bin Maktoum Juma Al Maktoum," Aochamub said.
"Furthermore, the President is also expected to meet with the British Prime Minister, Theresa May, whilst in the British capital, London, during the two-day visit."
Geingob will depart for London this Sunday and return on Wednesday next week, 11 October. State House did not announce which government officials, if any, would accompany him on the trip.