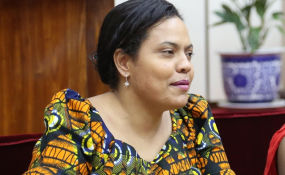 Photo: Daily News
By Rosemary Mirondo
Dar es Salaam — A thirst for who will replace former Minister of Energy and Minerals, Prof Sospeter Muhongo, who was sacked from office in May this year, has finally been quenched.
President John Magufuli on Saturday October 7 appointed a new ministers to manage the docket. However, he split it into two--the Ministry of Minerals, which will now be led by Ms Angellah Kairuki. The latter was the Minister of State in the President's Office (Public Service Management and Good Governance) before her new appointment.
Her Deputy Minister is Mr Harun Nyongo.
The new Ministry of Energy will be headed by Dr Medad Kaleman, who was Deputy Minister in the disbanded Ministry of Energy and Minerals. His deputy will be Ms Subira Mugambo.
Magufuli made the announcement at statehouse via state television on Saturday morning. He said he was increasing the size of his cabinet from 19-21 ministers and the number of deputy ministers from 16-21.
Former Minister of State in the President's Office (Regional
Administration and Local Government) Mr George Simbachawene, who resigned after he was implicated in a minerals scandal, has been replaced by his deputy minister, Mr Selemani Jaffo.
Read: Simbachawene resigns as JPM receives two damning reports
Mr Jaffo will be assisted by two deputy ministers Josephat Kandenge and George Kakunda.
Meanwhile, the Minister of Natural Resources and Tourism, Prof Jumanne Maghembe, has been dropped from the cabinet and replaced by Dr Hamisi Kigwangalla, who was the Deputy Minister of Health, Community Development, Gender and Children.
Minister of Water and Irrigation Gerson Lwenge has also been dropped from the cabinet and replaced by Mr Isaack Kamwele, while Deputy Minister of Information, Culture, Artists and Sports Anastazia Wambura has been replaced by Juliana Shonza.