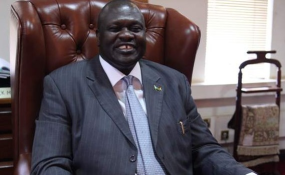 Photo: Daily News
By Fred Oluoch
A former Ethiopian rebel leader has accused former South Sudan vice president Riek Machar of recruiting the Nuer community in Gambela region to fight on his side in the civil war in the country.
Thowath Pal Chay, the former commander of the Ethiopian Peoples Patriotic Front (EPPF), which has since signed a peace agreement with the Ethiopian government, told The EastAfrican that the use of Ethiopian Nuer could spread the conflict across the border into western Ethiopia.
The former governor of Gambela region, who has been living in exile since 1991 when his leader Mengistu Hailemariam was overthrown, said Dr Machar is luring some of his former fighters with promises of high military positions and big jobs should he take over power in Juba.
The Gambela region is occupied by four ethnic groups; the Nuer, Anyuak, Opo and Komo.
"Dr Machar is violating the territorial integrity of Ethiopia by recruiting the Nuer into a fight they don't understand. He does not understand that having the same community across the border does not give him power over them. He is basically promoting mercenaries in western Ethiopia, which is a threat to the security of the country," said Mr Chay.
He added that if the recruitment continues, it could jeopardise the hospitality the Ethiopian government has offered to South Sudan refugees fleeing the war.
"Out of the 1,300 security guards who escorted Dr Machar to Juba last April, 860 of them were Ethiopians from Gambela region. But when fresh fighting broke out in July, some of them went with him to Congo. Others are scattered in western Equatoria, Uganda and Kenya," he said.
When Dr Machar returned to Juba in April 2016, some top government officials complained that many of his security guards could not speak Arabic.