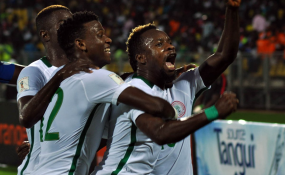 Photo: Premium Times
Members of the Nigerian community in Lesotho said on Sunday that they will set up a fan base to watch Super Eagles World Cup matches scheduled for Russia in 2018.
Nigeria beat Zambia 1-0 on Saturday to become the first African country to qualify for the Mundial.
Nigeria topped group B, with 13 points followed by Zambia with seven points. Other countries in the group of death are Algeria and Cameroon.
Folaji Adura, President, Association of Nigerian Communities in Lesotho, told newsmen on the telephone from Maseru that they were happy with the Eagles victory.
"Nigerians living in Lesotho are happy with the qualification. We will set up a fan base to watch the World Cup matches when it starts in Russia.
"Many Lesotho fans also rejoiced with us on the day. They like our players who ply their trades in Europe. Many still like the exploits of Austin Jay-Jay Okocha, Kanu Nwankwo and Finidi George," he said.
Adura said Eagles captain, Mikel Obi, Chelsea wing back, Victor Moses and goal scorer, Alex Iwobi were outstanding in the match against Zambia.
"The Nigerian team was tactical. They soaked the pressure from the Zambians and scored when it mattered most. We have a good team and it is our expectation that they will do well in Russia," he said.
According to him, Nigerians in Lesotho will celebrate our country's independence on Oct. 14 .
"Lesotho celebrated their independence on Oct. 4 . As a mark of respect, we moved our celebration to Oct. 14 and we will use the opportunity to celebrate our World Cup qualification," he said.
Adura said before the match, an elderly member of the community reminded them of an incident in 1977 when Godwin Odiye scored an own goal in a similar match against Tunisia in Lagos.
"We prayed that such event should not happen in the crucial match and thank God, we finally made it," he said.