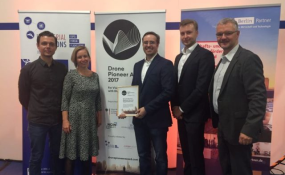 Photo: Daily News
By Deus Ngowi
Arusha — A Tanzanian NGO - Elephant Survival Organisation (ESO) through its project Bathawk Recon (BHR) has scooped a prestigious Drone Pioneer Award in an exhibition in Berlin, Germany.
Project BHR has been carrying out Unmanned Aerial Vehicle (UAV) based anti-poaching service and is due to operate in Tanzania national parks, it took place in more than 30 take offs and landings in Europe's largest flight zone.
A report released in Germany and made available here by organisers of the exhibition, DVW INTERGEO said that the UAV AP concept has formally been recognised in Berlin. The NGO has entered an agreement with Tanzania National Parks (Tanapa) to carry out operations in some of the parks in a quest to curb poaching and environmental degradation.
Professor Hansjörg Kutterer, President of DVW INTERGEO said that the world's largest event and communication platform for geodesy, geoinformation and land management had 158 exhibitors.
"Apart from exhibitors, there were 84 presentations in two forums and more than 30 take offs and landings in Europe's largest flight zone made Inter-aerial Solutions at INTERGEO, the meeting points for the international UAV sector," he said.
The enormous range on show underscored the event's importance as Europe's leading commercial and civil drone show. Presented for the first time this year, the Drone Pioneer Award recognises sustainable solutions using drones.
"We are shaping digitisation and bringing together the whole world. In fact, this is ever more important than ever, since digitisation is not an end in itself. Solutions to social issues related to mobility, energy, the environment, health and safety should be found, and these issues cannot be tackled without digitisation," said the president in the statement.
A special prize sponsored by the Joschka Fischer Company was presented to the ESO, underscoring the power of the company's concept to capture the notice of conservationists and the technology community.
Ms Julia Eckey, a Principal with Joschka Fischer & Company, stated that the project picked out for an award by ESO and BHR was about protecting wild animals in a wildlife reserve, showcasing that when operating the drone, operators are not just having fun but are saving elephants' lives too.
According to Mr Mike Chambers, In-Charge of the ESO UAV Anti Poaching Surveillance Start Up in Tanzania, that was a particularly important form of recognition.
"We have made every effort to build the idea as a local platform - Global Technology Local Concept. That is why this is so meaningful to us because a major global voice is appreciating what we have to offer and saying out loud to the whole community!" said Mr Chambers.
BHR Liaison Officer, Mr Idrisa Jaffary, noted that the trade fair and conference cover all the key trends that crop up along the entire value-added chain - from geo-based information surveys and data processing to integrated applications.
BHR is a Tanzania registered limited liability company set up to deliver UAV based anti-poaching services to Tanzanian Government and NGOs. It brings the leading edge of surveillance technology to address the supply side of the poaching equation.
The intervention is intended to be definitive and UAVs have the capacity to reveal any place a poacher might hide. A focused, professional undertaking can bring the resources to bear, where and when needed.
Private enterprises can deploy such a model to scale in a viable, energetic manner. NGO's and government are the custodians of wildlife, but the private sector can deliver a new order of service and efficiency.