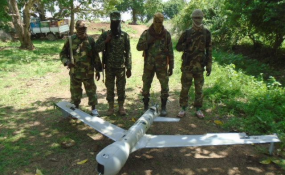 Photo: Radio Dalsan
A powerful bomb explosion has ripped through a military convoy carrying African Union forces near Wajid district, located in Somalia's southwestern Bakool region.
The blast which has resulted from a remote-controlled landmine planted on the roadside struck Ethiopian troops traveling in the convoy while moving on to the outskirts of Burdhuhulle village.
Local residents said the attack has inflicted heavy losses on the Ethiopian soldiers, but, the exact number of casualties has not been confirmed yet.
There were no immediate comments on the incident from Ethiopian military and Somalia army.
Al Shabaab has claimed responsibility for the attack, according to a statement posted on its affiliated online media outlets.