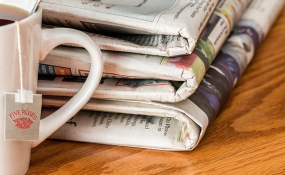 Photo: Pixabay
By Ejiofor Alike
The International Press Institute (IPI) has stated that it will hold its annual World Congress in Abuja from June 21 to 23, 2018, under the theme, 'Why Good Journalism Matters.'
The World Congress will affirm the indispensable role of quality media in building strong societies, showcasing investigative stories and projects that bring positive change to individuals and communities in Africa and around the world.
According to a statement issued from Vienna, Austria by the Director of Press Freedom Programmes at International Press Institute (IPI), Scott Griffen, the event is coming as media outlets everywhere face tremendous challenges not only in terms of economic survival, but also from a loss of public trust driven by governmental hostility to critical journalism and the rise of "fake news" and propaganda.
"IPI is thrilled to hold its 2018 World Congress in Nigeria, Africa's most populous country, which boasts a vibrant and highly innovative media scene," IPI Executive Director Barbara Trionfi said, after signing a memorandum of understanding with the Nigerian host Committee during an IPI Executive Board meeting in Washington, D.C.
A former IPI Executive Board member from Nigeria, Mallam Ismaila Isa, who signed the memorandum on behalf of the Nigerian Host Committee, added: "Nigeria is prepared and looking forward to receiving the world's media in June 2018. We hope to make this the most successful world congress in the history of IPI."
The Nigeria Host Committee is headed by President of the Newspaper Proprietors Association of Nigeria (NPAN), Mr. Nduka Obaigbena.
In addition to Isa, other members of the host committee include: Chairman of the Daily Trust Newspaper, Mallam Kabiru Yusuf; Senior Special Assistant to the President of Nigeria on Media and Publicity, Mallam Garba Shehu; Secretary of IPI Nigeria National Committee, Mr. Raheem Adedoyin; President of the Nigerian Guild of Editors (NGE), Mrs. Funke Egbemode and President of the Nigerian Union of Journalists (NUJ), Mr. Waheed Odusile.
The statement added that 2018 would also mark the 55th anniversary of IPI's Africa Initiative, a comprehensive journalists' training programme established in 1963 in Nairobi, Kenya and Lagos, Nigeria with a grant from the Ford Foundation.
The Nigerian Institute of Journalism (NIJ), which was born out of the initiative, still exists today as one of the leading communication and journalism training institutions in Africa.
The statement added that the congress would start with an opening ceremony on the afternoon of Thursday, June 21 and would run until the evening of Friday, June 23.
It said registration would open soon at ipiworldcongress.com (link) with discounted rates for our members.
IPI is a global network of editors, media executives and leading journalists, dedicated to the furtherance and safeguarding of press freedom, the protection of freedom of opinion and expression, the promotion of the free flow of news and information, and the improvement of the practices of journalism.