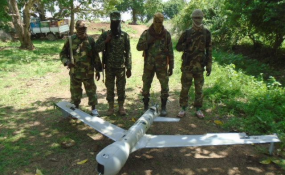 Photo: Radio Dalsan
A Somali official has blamed Al Shabaab for the beheading of a man near the southern town of Wajid, located in the country's southwestern Bakool region on Sunday morning.
Speaking to Radio Shabelle, Wajid district commissioner Adow Abdirahman Jugle confirmed the beheading of a civilian by Al Shabaab militants in the outskirts of the town.
The man whose name has not been identified yet was reported to have been ferrying food to the government-controlled city which is under Al Shabaab blockade since 2014.
Al Shabaab did not comment on the alleged beheading.