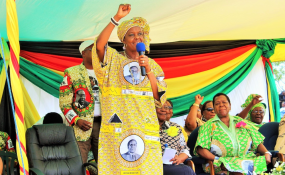 Photo: Tendai Marima/The Daily Vox
First Lady Grace Mugabe said she is against the idea of giving "poor" ruling part youths residential stands because the majority of them cannot even afford to buy one brick.
In 2016, Zanu PF launched a 2018 urban vote campaign by dishing out residential stands to thousands of youths in Harare and Bulawayo saying that by next year all youths will be "landlords".
Addressing youths who were attending the official launch of the Youth Empowerment Bank in Harare last week Grace said the youngsters must be allocated pieces of farming land because it was better that way as most of them are able to farm, harvest and sell their produce to Grain Marketing Board and get money.
"I spoke to Chipanga (Zanu PF youth secretary) and said, I am not happy and that I am against the housing stand programme," said the First Lady.
"You are just giving them residential stands, without even verifying if they have money to build houses."
She added, "But if you give them small pieces of land its better, because giving them residential stands in town, most of them do not have money to build," much to the delight of the youths.
She went on to say tell the youths that they must stop rushing to urban centres because service delivery is at its all-time low because of overcrowding especially in Harare.
"The water we drink is not fit for human consumption and we sometimes depend on dirty water," said the First Lady.
"But in rural areas there is better and clean water, sometimes we do not have power, the roads are in a deplorable state."
She added, "But the story is different and better in most rural areas."
"But these stands that you are rushing to grab, you won't be able to develop them because you don't have the money."
"Land is far much better because you will leave that land to your grandchildren."