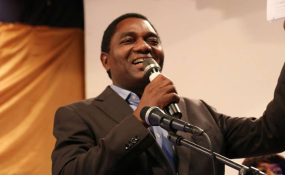 Photo: Zambia Reports
By Clement Malambo
Radio Christian Voice has again cancelled a scheduled live programme that was to host opposition UPND leader Hakainde Hichilema.
According to to an announcement made by Hichilema, the program was rescheduled to this morning from last Thursday but had to be cancelled at short notice for unspecified reasons.
Hichilema has since apologized to UPND members and Zambians in general that the radio program was cancelled.
READ HICHILEMA'S NOTICE
Good morning friends
We wish to sincerely apologise that our scheduled Radio Christian Voice Chatback Programme that was planned for this morning has again been cancelled.
We got the message of the cancellation early this morning. This was despite assurances to me personally last week on Thursday and further assurances to our media team yesterday with the senior station management that the programme would go ahead today Monday 9th October 2017.
Take note that this programme has been initiated by the radio station itself from way back the time we just came out of detention. But we had requested for a bit of time as we had to attend to some other pressing issues then.
We once more sincerely apologise to our expectant audience on the saddened but embarrassing turn of events in our country.
We thank Radio Christian Voice for the invitation, but
we fully appreciate the difficulty conditions under which media houses currently operate.
Have a great day and God bless you all.