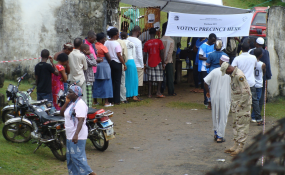 Photo: Rukshan Ratnam/UNDP
As Liberia is at a crossroads to elect a new leader many electorate in Grand Bassa County have vowed to turnout in droves on October 10 to vote for both representative and presidential candidates of their choice.
In an opinion poll conducted by our reporter in Buchanan on Saturday October 7, 2017, the voters voiced out that if citizens in Grand Bassa County decline to vote, Liberia will still have a leader because other people will indeed cast their votes.
"We will get on the line early Tuesday morning October 10 in order to make sure that Liberia has a leader that will continue from where Madam Sirleaf tenure ends. We the electorates in Grand Bassa County are aware that any decision that will be made on October 10 is surely going to speak for us in the six years to come. So, if we stay away from the process it means those who are willing to vote will decide for us for the next six unbroken years. With that many of us have concluded to vote. We are going to be part of the more than one million registered voters that will be making that decision on October 10. We have cried several times in our own country because on our poor living condition," the participants in the poll said.
According to them, the ordinary people are living on less than a dollar a day, with students sometimes trekking along one hour thirty minute distance to access education facilities that are already overwhelmingly challenged including poor healthcare system, inadequate pipe born water supply, deplorable road conditions, lack of electricity in many parts of the country, followed by corruption and a devastating economy, etc.
The participants in the poll, in separate statements, indicated that as another time has come for transition to take place since many years in the country, it means that every Liberian who is qualified and is registered during the voter registration process should stand up on October 10 to cast his/her ballot for someone who will make country a better place to live.
The 115 persons, who participated in the poll, expressed optimism that many of the registered voters in Grand Bassa County will stand up to exercise their franchise on the 10th of October because they believe a capable person should handle the mantle of authority from President Ellen Johnson Sirleaf who in 73 years will democratically be turning over power to another democratically elected President in January 2018.
In a rather strong participants in the poll urged all electorate to go to the polls on October 10 to cast their ballots.