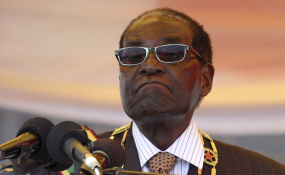 Photo: New Zimbabwe
President Mugabe has, in terms of Sections 100 (200) (c) and (d) of the Constitution of Zimbabwe Amendment (No. 20) reassigned 10 ministers and made eight new appointments in a cabinet reshuffle announced late on Monday. The re-assignments and appointments are with immediate effect.
Dr Ignatius Chombo is the new Finance and Economic Development minister while former Finance Minister Honourable Patrick Chinamasa has been moved to a new ministry titled the Cyber Security, Threat Detection and Mitigation portfolio.
The rest of the ministries have been announced as follows, through a press statement issued by Dr Misheck Sibanda the Chief Secretary to the President and Cabinet:
Find list here.