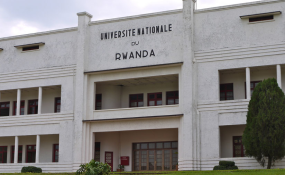 Photo: The New Times
By Eugene Kwibuka
University of Rwanda, the country's largest and only public institution of higher learning, is under increasing pressure to come up with alternative sources of income to ensure it achieves its goal of delivering quality and relevant education in the wake of budgetary cuts in state funding.
The university has been reliant on public funding, but with an ever-growing list of competing national priorities, the government is asking various public institutions to devise other funding mechanisms other than just relying on taxpayers to finance their operations.
Numerous public institutions, including the University of Rwanda (UR), have seen gradual cuts in their budgets, forcing their leaderships to look elsewhere for funding to run their operations.
UR's state budgetary allocation was cut by 50 per cent from about Rwf26 billion in 2013 to about Rwf13 billion in the 2015-2016 fiscal year.
Analysts say that government budgetary cuts for public varsities is a global trend that became more pronounced at the height of the economic crisis of 2008.
However, the government still intervenes from time to time.
For instance, in the financial year 2016-2017, the university got about Rwf17 billion from the national treasury to help cater for shortages in financing.
Dr Charles Murigande, the University of Rwanda's deputy vice-chancellor for institutional advancement -a former rector at the former National University of Rwanda and minister for education -, admits the trend requires the institution to seriously consider alternative sources of financing.
"The government's budget is like a small cake that all of us must share," Dr Murigande said.
One of the alternative sources is the alumni, he said.
In 2013, the Government merged the then National University of Rwanda with six other public universities and institutions of higher learning to form the current University of Rwanda.
"We have got about 80,000 people who graduated from all these former universities and they collectively constitute the current UR's Alumni. Elsewhere, these members constitute a huge source of funding for universities. It's a potential source of income we can tap into to fund the varsity's operations," Murigande told The New Times last week.
Along with soliciting donations from former students, Murigande said, UR will also employ five other strategies to mobilise funding.
They include efficiently using the available resources at the university's disposal such as leveraging advancements in ICTs to deliver study programmes, sharpening focus on delivering STEM (science, technology, engineering and mathematics) courses to attract more government funding, and to push lecturers to do income-generating consultancies.
Others include getting lecturers to do research proposals to attract funding from different organisations, as well as tapping into philanthropists' goodwill to fund different causes.
"Those are a few examples of what UR is doing and can really do to diversify its sources of funding. If done correctly, it will eventually help create sustainability for the institution," Murigande said.
Prof. Silas Lwakabamba, the outgoing vice chancellor of the University of Kibungo (UNIK), a community institution based in Eastern Province, agrees with Dr Murigande.
"We need to exploit all the possible sources of funding. They should just look for alternative sources of funding and there are many of them," he said.
Lwakabamba added that every university that wants to attract funding needs to come up with a clear vision of what its priorities are in order to interest donors.
"You need to have a vision of where you want to go and sell it to the donors. If you can combine your vision with their interest then you are good to go," he said.
Prof. Bruce Krogh, the Rwanda Programme Director for Carnegie Mellon University-Africa, said: "Donors don't just want to hear that you need money, they want to hear what you would accomplish with the money and how it fits well with their own mandate."
He said a clear set of priorities is necessary in order to attract good funding.
The Permanent Secretary in the Ministry of Education, Sam Mulindwa, said that there is a government plan to help equip UR with tools to fix its financial challenges.
"In our new funding model, UR has an amount of money that they are required to generate as a target.
"We have, for instance, asked them to generate at least Rwf10 billion in the current fiscal year. We are going to fund the university but the funding they get will depend on how much they can raise on their own."
Mulindwa was recently addressing a parliamentary Public Accounts Committee (PAC) session that was discussing the education sector.
Meanwhile, Murigande told The New Times that based on an assessment conducted by the Ministry of Finance and Economic Planning, and UR last year, it was decided that the Government would temporarily increase budgetary allocation to the university to Rwf26.7 billion in the current fiscal year.
Appearing before PAC earlier this month, Amb. Murigande blamed recent cuts in government funding to current UR's woes, including delays in salary payment to its staff and significant reduction in the frequency of students' field work.