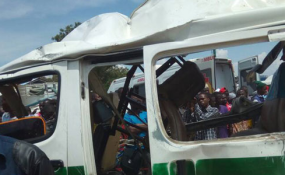 Photo: The Citizen
By Jonathan Mussa
Misungwi — Twelve people have lost their lives and three others suffering injuries after a minibus they were travelling in veered off and plunged into Lake Victoria at Kigogo ferry.
The accident occurred early yesterday when the driver of the minibus, which was heading to Sengerema from Mwanza lost control due to brake system failure.
The Mwanza Regional Police Commander (RPC), Mr Ahmed Msangi confirmed the accident, adding that two people were still missing and that the search team was busy looking for them.
"Currently, the police force is searching for two passengers who are still missing," the police boss told The Citizen.
The RPC added: " The accident occurred after brake systems of the minibus failed, so the driver could not control the vehicle. I was a few metres from Igogo ferry, thus it veered off the road and plunged into the lake." Speaking to reporters at the area where the accident occurred, Mr Msangi said the number of passengers on the ill-fated bus could not be established immediately.
The bodies of the deceased were sent to Bukumbi Medical Centre while the three passengers who survived are admitted at three different hospitals in the region.
Speaking about the accident one of the eye witnesses, Mr Amos Stephen said they rushed to offer their assistance in the rescue mission, but were ordered to stop by the ferry management.
"We were told to wait for rescuers from Mwanza, but after some time we decided to ignore their order and we managed to pull off 10 bodies," said Mr Stephen. Meanwhile, President John Magufuli yesterday sent his condolence message to the Mwanza Regional Commissioner, Mr John Mongela and families of the deceased.
According to the statement issued by State House Director of Presidential Communication Unit, Mr Gerson Msigwa, Dr Magufuli said he was shocked with the deaths.
"I'm deeply shocked with the incident, which took lives of 12 people, I'm praying that their family will keep calm during this difficult moment," said President Magufuli in the statement.