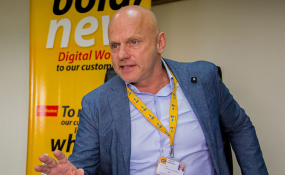 Photo: Faustin Niyigena/New Times
interview
By Collins Mwai
Top telcom giant has of recent been dealing with numerous service-related complaints from clients and the regulator - the Rwanda Utilities and Regulatory Authority (RURA).
Does this worry them? What are they doing about it? What do they say about growing customer complaints? How are they handling RURA requirements?
Business Times' Collins Mwai spoke to MTN Rwanda's chief executive officer Bart Hofker about these and other sector issues, including the impending implementation of number portability, which allows customers to use one telephone number across all networks.
Excerpts:
MTN Rwanda has been losing it dominant market share over the past year, with the latest statistics showing that you have only 3 per cent lead ahead of your closest competitors. Doesn't this trend worry you?
It is very easy to cosmetically increase your customer numbers, but those numbers do not mean much if they do not use your network. Who do you think is winning in the market?
If you look at customer numbers, it could be that they are only there because you promised them something like winning a prize.
However, if the trend persists it could eventually affect your performance considering that you will have lost a significant percentage of you client base...
Up to 2016, we were losing market share... I am talking about value market share and revenue market share. This year we are winning big time.
If we grow by 5 per cent quarter-on-quarter and the sum of competition is decreasing by 5 per cent, who is winning value market share? We are just not cosmetically pumping up our customer numbers.
We care about customers that use our network. We want customers that are happy with us and that are recurrent and keep coming back. So, do not be focused on customer numbers, look at revenue.
Crystal Telecom shareholders will not receive a dividend payout as the money will be used to pay the $8.5 million fine imposed by the regulator early this year. Is this not going to affect investor confidence in the stock?
This you can relate to the fine that we got. We received a fine and we accepted it. We are paying it this year. We are funding that by not paying dividends in the last shareholder meeting. Both Crystal Telecom and MTN Group accepted that. That is how we dealt with the fine payment.
We have very good shareholders and we are open about our financial performance and we believe that next year things will go back to normal.
However, the fine did not impact our ambitions and commercial performance in any way. Sometimes, I read stuff from social media about efforts to raise money to pay that fine, but this isn't true.
Some clients claim MTN 'steals' their airtime and data bundles. What do you have to say?
We are not stealing money or increasing tariffs because of the fine.
I do understand that often, people think that way. However, what happens is that a WhatsApp subscriber, for instance, will receive updates and backup notices every now and then, which back up your data like photos and update your applications. If you activated that, it updates your application and backs up your data using up your airtime or bundles. When one realises that their bundles or airtime has been used up, they think that we 'stole' their money.
Telecom companies across the world are seeing a drop in the earnings from voice and text message avenues. Rwandan market is not unique in this aspect. So what are you doing about the development?
Voice and SMS revenue was decreasing significantly in Europe. Data earnings dropped a much small rate. However, I believe that, as MTN Rwanda, we will not be in that situation. We are prepared... Besides, data segment still has a lot of capacity. I believe that the revenue increase in data and mobile financial services will be higher than the decrease in voice and text. This will provide a cushion for us.
Talking of expanding your efforts in the data market, some would say it is somewhat crowded market which has resulted into price wars. How will you become relevant in the aspect?
We will not join the price wars... we will focus on adding value to our customers. We also want to be trustworthy to our partners. We are working to diversify our digital services, as well as provide cloud services for businesses.
The demand for data is rising and there is enough growth space for all of us. I am not worried about it at all. Shareholders need not worry about these initiatives pushing up operational costs, either.
There have been growing customer complaints on several aspects, including poor network and dropped calls, among others. Could this be as a result of heavy outsourcing to service providers?
Not at all... that has not affected service provision. The main capabilities that mobile networks need are supplier management. It's not necessarily that you need to be the best yourself at everything, you have specialists for that.
Mobile number portability will be rolled out in the local market sooner or later. Tech enthusiasts say that this could lead to loss of clients by telecoms. What is your view on this? Is it the reason you are investing more in network?
Firstly, we are not investing in our networks because we are afraid of number portability. We are investing to create better customer experience. On number portability, it will impact positively if customers choose us as opposed to competitors.
What I like a lot about this market is that it is a multi-SIM market. Most customers have two or three SIM cards. Of course, we fight for customers every day and want them to choose us and not the competition.
We are doing that already. Therefore, number portability will not change that if we have the best network and the best services... I am not afraid of it. Like in Kenya, I am not afraid of it.
Suppose you have a two-SIM card phone, one of MTN and another belonging to our competition and then number portability is implemented, what would you change?
In the Netherlands, where I come from, a single SIM market, it had impact. But if you have two SIM cards, it is not likely to change much. Why would someone with two SIM cards switch one of them and have two SIMs of the same operator?
So, I do not think number portability is very relevant for this market. The operations to get it running and work seamlessly, is very costly. In the end, who is going to pay for that?
I would not make it the most important thing, from a government point of view. I do not see the relevance for people who already have two SIMs, but perhaps I am wrong.
I am not against interoperability, what I am against is unfair competition. We are investing heavily in our customer base and in distribution network. The regulator should consider that introducing interoperability, without announcement or compensation, will be like punishing us for being successful. If the regulator tells us "we will do it anyway, and we do not care," then we will not invest because there is no incentive.
(Editor's note: Last year, RURA advertised seeking service providers to implement and operate number portability in the country. Mobile number portability is a telecom network feature that enables consumers of mobile cellular services to retain their numbers whenever they decide to change their service providers).
Your cross-border mobile money transfer platform in partnership with Safaricom Kenya and MTN Uganda is facing competition from other operators. How has this affected you?
That is the beauty of free market, it is competition. There are more options for customers, which is a good thing. Our earning from the cross-border remittances have not suffered at all despite the competition. It is good business for us and is working very well. I am not afraid of competition.
What is the role of telecoms in driving financial inclusion through mobile money platforms whose potential has not been fully exploited?
You know that money is all about trust, what I would hope for is that banks are more open to work with players in the sector. We still do not have mobile savings and loan products with them.