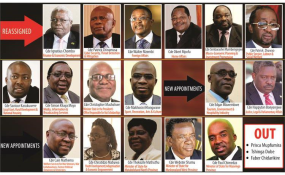 Photo: The Herald
By Nkosana Dlamini
Zanu PF opponents have scorned President Robert Mugabe's cabinet reshuffle Monday which saw the shock demotion of Finance Minister Patrick Chinamasa to cyber security ministry leaving the treasury in the hands of the veteran leader's corruption accused aide, Ignatius Chombo.
Political analysts, likewise proffered different opinions about a cabinet adjustment which smacked of an elaborate attempt by the wily Mugabe to further weaken his ambitious deputy Emmerson Mnangagwa.
Other key changes to the executive saw the widely expected ouster of War Veterans Minister and Mnangagwa ally, Tshinga Dube and the reassignment of Obert Mpofu to Home Affairs.
Tourism Minister Walter Mzembi was elevated to foreign affairs while CIO boss Happyton Bonyongwe was a surprise appointee into cabinet, taking over the justice ministry from Mnangagwa.
Reacting to the changes, MDC-T spokesperson Obert Gutu said the reshuffle was a big yawn, adding that it has reduced Chinamasa to trivial job of being the country's chief WhatsApp group administrator.
"This is very big yawn, indeed a massive exercise in futility," Gutu said, adding that President Mugabe had "totally and completely lost the plot".
"Actually, he should have reshuffled himself by immediately announcing his retirement.
"What kind of Ministry has been created for Patrick Chinamasa? What type of nonsense is that?
"Chinamasa is now effectively on the same level as a WhatsApp group administrator. This is a very big joke that isn't funny.
"The most effective reshuffle will come after next year's elections when the entire Zanu PF dictatorship, warts and all, will be booted out of power."
Zapu's Noku Mjobisa said the reshuffle was the repositioning of deadwood and an act of rewarding thugs.
"That's deadwood to fossil cabinet," he quipped.
"It will not take us any way. The teetotaller (Mugabe) must reform himself. He has totally failed to convince the now restless population.
"Zimbabwe needs a new narrative; a new dispensation not the rewarding of mafia thugs for loyalty.
PDP spokesperson Jacob Mafume also dismissed the reshuffle.
"It is stunning in its emptiness and lack of a 'wow' factor," he said.
"The President has brought Chombo into finance; who has never made a success of any ministry he has been.
"There is a randomness and lack of clear thinking in his appointments that one can appoint a minister as old as Chinamasa to monitor Facebook, twitter is to make him a laughing stock of the nation."
He added: "In trying to embarrass Mnangagwa, you get a sense of a man who is cutting his nose in order to laugh at his face in the mirror."
Transform Zimbabwe's Dr Sungai Mazando said the reshuffle was merely a display of President Mugabe's "good sense of humour".
"It looks like they have made big strides to settle factional scores at the expense of the economy and the aspirations of the suffering majority," he said.
"Chombo, with a PhD in adult education, will not deliver on that ministry, not least because of his notorious penchant for corruption but more out of sheer lack of capacity
"That a CIO chief is now Minister of Justice does little to inspire confidence in the justice system.
"The new announcements confirm absolute state capture by Zanu-PF which is an affront to democracy."
CABINET CHANGES:
Minister of Finance - Ignatius Chombo
Minister of Foreign Affairs - Walter Mzembi
Minister of Home Affairs - Obert Mpofu
Minister of Macro-economic planning - Simbarashe Mumbengewi
Minister of Cyber Security - Patrick Chinamasa
Minister of Public Service -Patrick Zhuwao
Minister of Information - Simon Khaya Moyo
Minister of National Scholarships - Chris Mushohwe
NEW APPOINTMENTS:
Minister of Tourism - E Mbwembwe
Minister of Justice - Happiton Bonyongwe
Minister of War Veterans - Cain Mathema
Minister of Youth and Empowerment - C Mabuwa
Minister Matebeleland South - Maboyi Ncube
Minister Matebeleland Noth - T Mathuthu
Minister Mashonaland West - Webster Shamu
Minister Masvingo province - P Chimedza