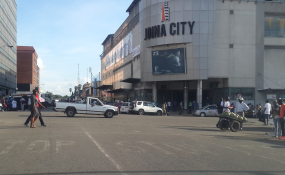 Photo: Jerry Chifamba/AllAfrica
President Robert Mugabe's clear-out vendors from central Harare is aimed at dispersing the urban vote ahead of next year's elections, a labour union has warned.
Speaking at the weekend Mugabe demanded the removal of thousands of informal traders who have invaded Harare's central business district saying they were a menace to business and traffic.
The country holds crunch elections next year, with the veteran leader looking to add another five-year term to his 37 years in power. Harare and almost urban centres are widely seen as opposition strongholds.
In statement Monday, Zimbabwe Congress of Trade Unions (ZCTU) secretary general, Japhet Moyo, warned that the country was headed for a clean-up campaign similar to the 2005 'Operation Murambatsvina' which displaced hundreds of thousands of urban dwellers.
"The ZCTU is worried that we are heading for another Operation Murambatsvina that will see a lot of displacement of people around cities as the country gears for national elections," said Moyo.
"Furthermore, we suspect that the government, hard hit by money shortages, would like to reap some absurd taxes from vendors who would be allocated spaces in designated areas."
The ZCTU boss warned that Mugabe could also be trying to settle divisions in his party as most of the vendors were organised along Zanu PF factional lines.
Mugabe ordered Home Affairs Minister Ignatius Chombo and Local Government Minister, Savior Kasukuwere to remove vendors from the streets saying they had become an eyesore and should be moved to designated sites.
He told a Zanu PF youth league meeting at the weekend that Harare, as the capital city, should be the smartest of all urban centres.
But Moyo said before removing the vendors from the street, government should create the 2.2 million jobs Zanu PF promised during the run-up to the 2013 elections.
He said the current economic crisis was forcing people into vending.
"People who are into street vending are not into it for their liking, but are being forced due to the collapsed economy largely blamed on President Mugabe's bad economic policies.
"Instead of harassing vendors, the Government must first of all restore economic growth and create the promised 2.2 million jobs and by doing so, all vendors will vanish overnight."
Moyo lamented that most of the people now vending in the streets were graduates who were failing to get decent jobs because of the government's policies.
"What is more hypocritical for Mugabe is that his party has been encouraging people to go into 'self-help' projects and declaring them an eyesore now is extremely insensitive.
"In fact, most of the vendors are mere workers of Zanu PF barons who give them wares to sell in the streets."