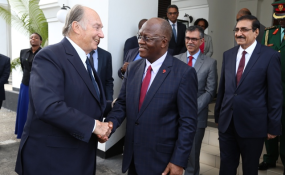 Photo: State House
By Alfred Tumushabe
Kampala — President Yoweri Museveni on Monday awarded His Highness The Karim Aga Khan, the 'Most Excellent Order of Pearl of Africa, The Grandmaster' to recognise his decades of work and contribution to Uganda's development.
President Museveni decorated the Aga Khan during the independence day celebrations at Bushenyi-Ishaka grounds in Bushenyi District, western region.
The Aga Khan has enormous investments in education, energy, health and hotel and tourism, media among others, in the country.
Our country
The Aga Khan, who is the Imam (spiritual leader) of the Ismaili Muslims, arrived in Uganda on Sunday, and held a meeting with President Museveni and other senior government officials at State House Entebbe.
Earlier, during a media briefing at the Uganda Media Centre, Presidency Minister Esther Mbayo hinted on why Uganda was honouring The Aga Khan.
"He will receive a special honour because of the immense economic contributions he has made to our country and indeed the whole world," Ms Mbayo said.