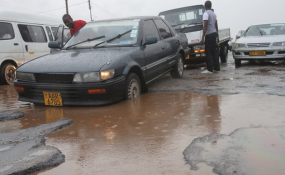 Photo: The Herald
By Taurai Mangudhla
HARARE has embarked on a major rehabilitation of its 5 500km road network at a cost of about $40 million ahead of the rainy season. This comes as the country's road network suffered damages due to incessant rains witnessed in the 2016 /17 rainy season, forcing Government to declare a state of disaster and pump in tens of millions to put the road network back in shape. Local Government, Public Works and National Housing Minister Saviour Kasukuwere said the City already has running projects to rehabilitate the road network ahead of the rainy season.
"We have been doing a lot of work . . . So far you can see there is work being done on Harare Drive and other roads as well in the City," Minister Kasukuwere told The Herald Property Guide in an interview last week.
"It remains an ongoing process," Minister Kasukuwere said, adding works will continue during and after the rainy season. Minister Kasukuwere could however not be drawn to speak on the amount of funding required for the project, the source of funding as well as terms of the contracts, referring technical aspects the works to acting Harare Town Clerk Josephine Ncube.
Mrs Ncube said, Harare had embarked on a serious road rehabilitation program which is funded by the road rehabilitation emergency fund.
"For City of Harare, we are going to get a total of $26 million and over and above that from our own budget we have set aside $14 million and we haven't used all of it so it's a combination of what we have set aside on our budget and the road rehabilitation fund that has actually given us traction," Mrs Ncube said in an interview.
"We are doing some refills and we are also doing some complete rehabilitation like on Harare Drive. On Harare Drive what we have actually done from Enterprise going into Drew is we have widened the road; we are doing the small bridges because they had collapsed so its major rehabilitation works. If you look at the other portion we have just opened now, that is from Enterprise going into Pringle, we are not redoing the road but it's a refill, giving it a new face," Mrs Ncube said.
She said Council was currently working on a number of roads in Harare and had engaged five contractors for the work.
"In order to expedite the activity we have actually four contractors who are going to be working together with our own internal teams. We also have a fifth contractor who is doing the road marking so there is a lot of activity that is going on," Mrs Ncube said.
In addition to the road works, Mrs Ncube said the work includes installation of new traffic lights at various intersections in the capital.
"It also includes a new central control unit for our traffic controlled intersections and we are currently doing the specifications so that we can procure that control unit. In addition to that we are also doing serious drain clearing activity and we have got casual workers, 1 000 of them who are being funded under the same programme and what they are doing is to unclog the drains because the clogging of the drain contributes very significantly to the deterioration of the condition of the road itself," she said.
Earlier this year, President Mugabe declared floods that ravaged southern parts of the country a state of disaster. Government had by March disbursed about $45 million towards rehabilitation of roads in eight provinces following a public outcry over the poor state of the country's road network.