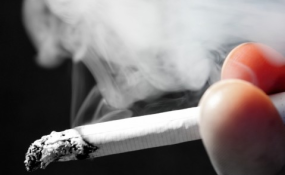 Photo: Premium Times
analysis
"British American Tobacco (BAT) and other multinational tobacco firms have threatened governments in at least eight countries in Africa demanding they axe or dilute the kind of protections that have saved millions of lives in the west, a Guardian investigation has found. ... The giant tobacco firms hope to boost their markets in Africa, which has a fast-growing young and increasingly prosperous population." - The Guardian
Tobacco is the iconic case of the conflict of public health and industry power. With its growth in the 20th century supercharged by advertising, it lost ground to a a broad public health campaign in the last decade of the twentieth century, particularly in the United States. It resisted that campaign with a powerful campaign to dispute scientific data on the health consequences of smoking.
Worldwide, the World Health Organization has led an effect to counter tobacco use, based on the WHO Framework Convention on Tobacco Control, adopted in 2003, to which 181 countries are parties (http://www.who.int/fctc/cop/about/en/). But implementation is inconsistent, and the industry is particularly targeting new younger consumers in countries without strong measures to curb the use of tobacco. According to the WHO, "Tobacco use is the leading single preventable cause of death worldwide, killing over 7 million people each year."
In Africa, the WHO-linked Center for Tobacco Control in Africa, based in Kampala, Uganda at the Makerere University School of Public Health, has taken the lead ( http://ctc-africa.org/index.php/company/about-us). But the industry is fighing back, as documented in the lead article excerpted in this issue of AfricaFocus Bulletin. That excerpt is accompanied by a short press release from WHO on their annual tobacco control report, and an open letter in the British Medical Journal Tobacco Control Blog, denouncing the new smokescreen organization launched by Philip Morris International (misleadingly titled "Foundation for a Smoke-free World", see http://tinyurl.com/yb6or524 for more details).
Another rising threat to health in Africa, parallel to that posed by tobacco, is the rapid expansion of fast food consumption, fueled both by multinational corporations and local rivals. See two recent articles:
"Obesity Was Rising as Ghana Embraced Fast Food. Then Came KFC," New York Times, October 2, 2017 http://tinyurl.com/ydhqz46r
"Fast food is fueling an obesity epidemic in Africa," Quartz Africa, October 4, 2017 http://tinyurl.com/y9eqhjec
For previous AfricaFocus Bulletins on health, visit http://www.africafocus.org/intro-health.php
For those wishing to explore these topics in greater depth, AfricaFocus has also compiled this short list of relevant books.
Naomi Oreskes and Erik M. Conway, Merchants of Doubt: How a Handful of Scientists Obscured the Truth on Issues from Tobacco Smoke to Global Warming. 2010 http://amzn.to/2xrLbLx "Naomi Oreskes and Erik Conway have demonstrated what many of us have long suspected: that the "debate' over the climate crisis--and many other environmental issues--was manufactured by the same people who brought you "safe' cigarettes. Anyone concerned about the state of democracy in America should read this book." - Former Vice President Al Gore
David Kessler, A Question of Intent: A Great American Battle with a Deadly Industry. 2002. http://amzn.to/2xsaRMC Carrick Mollenkamp et al., The People Vs. Big Tobacco: How the States Took on the Cigarette Giants. 1998. http://amzn.to/2z70Ul7 Mark Wolfson, The Fight Against Big Tobacco: The Movement, The State and the Public's Health. 2001. http://amzn.to/2xrbQb8 Books on the public health campaign against the tobacco companies in the 1990s. The short lesson is that the victories came from a convergence of actions by health advocates, public officials, and industry insiders who exposed lies by the companies.
Threats, bullying, lawsuits: tobacco industry's dirty war for the African market
by Sarah Boseley in Nairobi
The Guardian, July 12, 2017 https://www.theguardian.com - Direct URL: http://tinyurl.com/yc83jmeh
British American Tobacco (BAT) and other multinational tobacco firms have threatened governments in at least eight countries in Africa demanding they axe or dilute the kind of protections that have saved millions of lives in the west, a Guardian investigation has found.
BAT, one of the world's leading cigarette manufacturers, is fighting through the courts to try to block the Kenyan and Ugandan governments' attempts to bring in regulations to limit the harm caused by smoking. The giant tobacco firms hope to boost their markets in Africa, which has a fast-growing young and increasingly prosperous population.
In one undisclosed court document in Kenya, seen by the Guardian, BAT's lawyers demand the country's high court "quash in its entirety" a package of anti-smoking regulations and rails against what it calls a "capricious" tax plan. The case is now before the supreme court after BAT Kenya lost in the high court and the appeal court. A ruling is expected as early as next month.
BAT in Uganda asserts in another document that the government's Tobacco Control Act is "inconsistent with and in contravention of the constitution".
The Guardian has also seen letters, including three by BAT, sent to the governments of Uganda, Namibia, Togo, Gabon, Democratic Republic of Congo, Ethiopia and Burkina Faso revealing the intimidatory tactics that tobacco companies are using, accusing governments of breaching their own laws and international trade agreements and warning of damage to the economy.
BAT denies it is opposed to all tobacco regulation, but says it reserves the right to ask the courts to intervene where it believes regulations may not comply with the law.
Later this month, BAT is expected to become the world's biggest listed tobacco firm as it completes its acquisition of the large US tobacco company Reynolds in a $49bn deal, and there are fears over the extent to which big tobacco can financially outmuscle health ministries in poorer nations. A vote on the deal by shareholders of both firms is due to take place next Wednesday, simultaneously in London at BAT and North Carolina at Reynolds.
Professor Peter Odhiambo, a former heart surgeon who is head of the government's Tobacco Control Board in Kenya, told the Guardian: "BAT has done as much as they can to block us."
Experts say Africa and southern Asia are urgent new battlegrounds in the global fight against smoking because of demographics and rising prosperity. Despite declining smoking and more controls in some richer countries, it still kills more than seven million people globally every year, according to the WHO, and there are fears the tactics of big tobacco will effectively succeed in "exporting the death and harm" to poorer nations.
There are an estimated 77 million smokers in Africa and those numbers are predicted to rise by nearly 40% from 2010 levels by 2030, which is the largest projected such increase in the world.
Cigarette ad targeting African women. Image from article in Cincinnati Inquirer, March 4, 2003.
In Kenya, BAT has succeeded in delaying regulations to restrict the promotion and sale of cigarettes for 15 years, fighting through every level of the legal system. In February it launched a case in the supreme court that has already halted the imposition of tobacco controls until probably after the country's general election in August, which are being contested by parliamentarians who have been linked to payments by the multinational company.
In Uganda, BAT launched legal action against the government in November, arguing that the Tobacco Control Act, which became law in 2015, contravenes the constitution. It is fighting restrictions that are now commonplace in richer countries, including the expansion of health warnings on packets and point-of-sale displays, arguing that they unfairly restrict its trade.
The court actions are brought by BAT's local affiliates, BAT Kenya and BAT Uganda, but approved at Globe House, the London headquarters of the multinational, which receives most of the profits from the African trade. In its 2016 annual report, BAT outlined the "risk" that "unreasonable litigation" would be brought in to control tobacco around the world. Its response was an "engagement and litigation strategy coordinated and aligned across the Group".
'Focus on emerging markets'
At its annual meeting in March, chairman Richard Burrows toasted a "vintage year" for BAT, as profits rose 4% to £5.2bn after investors took their cut - their dividend had increased by 10%. When asked about the legal actions in Africa, he said tobacco was an industry that "should be regulated ... but we want to see that regulation is serving the correct interests of the health mission and human mission which should lie behind it".
So, "from time to time it's necessary for us to take legal action to challenge new regulation" which he said was led by "the local board".
BAT says it is "simply not true that we oppose all tobacco regulation, particularly in developing countries". Tobacco should be appropriately regulated as a product that has risks to health, it said, but "where there are different interpretations of whether regulations comply with the law, we think it is entirely reasonable to ask the courts to assist in resolving it". It was opposed to only a handful of the issues in Kenya's regulations, not the entirety, it said in a statement.
Although most countries in Africa have signed the World Health Organisation (WHO) treaty on tobacco control, none has yet fully implemented the smoking restrictions it endorses.
The WHO predicts that by 2025, smoking rates will go up in 17 of the 30 Africa-region countries from their 2010 level. In some countries a massive hike is expected - in Congo-Brazzaville, from 13.9% to nearly half the population (47.1%) and in Cameroon from 13.7% to 42.7%. In Sierra Leone it will be 41.2% (74% among men) and in Lesotho 36.9%.
In contrast, research showed last year that just 16.9% of adults smoke in the UK; and last month new figures showed UK heart disease deaths had fallen 20% since that country's indoor smoking ban.
"The tobacco industry is now turning its focus toward emerging markets in sub-Saharan Africa, seeking to exploit the continent's patchwork tobacco control regulations and limited resources to combat industry marketing advances," said Dr Emmanuela Gakidou and colleagues at the Institute for Health Metrics and Evaluation at the University of Washington in Seattle, publishing an analysis of smoking prevalence around the world in the Lancet in April.
Africa's growing numbers of children and young people, and its increasing wealth, represent a huge future market for the tobacco industry. The companies deny targeting children and cannot sell packs smaller than 10, but a new study carried out in Nairobi by the Johns Hopkins school of public health in the US and the Kenya-based Consumer Information Network found vendors selling cigarettes along the routes children take to walk to primary schools.
Stalls sell single Dunhill, Embassy, Safari and other BAT cigarette sticks, costing around 4p (5 cents) each, alongside sweets, biscuits and fizzy drinks. The vendors split the packets of 20 manufactured by BAT. "They are targeting children," said Samuel Ochieng, chief executive of the Consumer Information Network. "They mix cigarettes with candies and sell along the school paths."
BAT said that its products were for adult smokers only and that it would much prefer that stalls sold whole packets rather than single sticks, "given our investment in the brands and the fact there are clear health warnings on the packs.
"Across the world, we have very strict rules regarding not selling our products to retailers located near schools. BAT Kenya provides support to many of these independent vendors, including providing stalls painted in non-corporate colours, and providing youth smoking prevention and health warnings messages. We also educate vendors to ensure they do not sell tobacco products near schools."
Links with politicians
The Kenya case, expected to be heard after the elections on 8 August, is seen as critical for the continent. If the government loses, other countries will have less appetite for the long and expensive fight against the wealthy tobacco industry.
BAT has around 70% of the Kenyan market; its Kenyan competitor, Mastermind, has joined in the legal action against the government.
...
Tih Ntiabang, regional coordinator for Africa of the Framework Convention Alliance - NGOs that support the WHO treaty - said the tobacco companies had become bolder. "In the past it used to be invisible interference, but today it is so shameful that it is so visible and they are openly opposing public health treaties like the case in Kenya at the moment … Today they boldly go to court to oppose public health policy. Every single government is highly interested in economic growth. They [the tobacco companies] know they have this economic power. The budget of tobacco companies like BAT could be as much as the whole budget of the Africa region.
"Our health systems are not really well organised. Our policy makers can't see clearly what are the health costs of inaction on tobacco control because our health system is not very good. It puts the tobacco industry at an advantage on public health."
The sale across the whole of Africa of single cigarette sticks was a serious problem because it enabled children to buy them. "They are extremely affordable. Young teenagers are able to purchase a cigarette. You don't need £1 for a pack of 20," he said.
BAT has a reputation in Africa as an employer offering steady and well-paid jobs, said Ntiabang, based in Cameroon. "When I was about 10, I was always dreaming I could work for BAT. They have always painted themselves as a responsible company - a dream company to work for. All the staff are well-off. The young people think 'I want to work for BAT'. They promote a lot of events and make their name appear to young people. We grow up dreaming we can be one of them."
[see more, including several country case studies in full article at http://tinyurl.com/yc83jmeh]
WHO report finds dramatic increase in life-saving tobacco control policies in last decade
4.7 billion people - 63% of world's population - are covered by polices such as strong graphic warnings, smoke-free public places, and other measures
http://www.who.int/ - Direct URL: http://tinyurl.com/ycfbr6x8
News Release, World Health Organization
19 July 2017 | Geneva | New York - The latest WHO report on the global tobacco epidemic published today finds that more countries have implemented tobacco control policies, ranging from graphic pack warnings and advertising bans to no smoking areas. About 4.7 billion people - 63% of the world's population - are covered by at least one comprehensive tobacco control measure, which has quadrupled since 2007 when only 1 billion people and 15% of the world's population were covered. Strategies to implement such policies have saved millions of people from early death.
However, the tobacco industry continues to hamper government efforts to fully implement life- and cost-saving interventions, according to the new WHO report on the global tobacco epidemic, 2017.
"Governments around the world must waste no time in incorporating all the provisions of the WHO Framework Convention on Tobacco Control into their national tobacco control programmes and policies," says Dr Tedros Adhanom Ghebreyesus, WHO DirectorGeneral. "They must also clamp down on the illicit tobacco trade, which is exacerbating the global tobacco epidemic and its related health and socioeconomic consequences."
Dr Tedros adds: "Working together, countries can prevent millions of people from dying each year from preventable tobacco-related illness, and save billions of dollars a year in avoidable health care expenditures and productivity losses."
Today, 4.7 billion people are protected by at least one "best practice" tobacco control measure from the WHO Framework Convention on Tobacco Control (WHO FCTC), 3.6 billion more people than in 2007, according to the report. This progress has been possible because governments have intensified action to implement key measures of the WHO FCTC.
Strategies to support implementation of tobacco demand reduction measures in the WHO FCTC, like the "MPOWER" measures, have saved millions of people from early death, as well as hundreds of billions of dollars in the past decade. MPOWER was established in 2008 to promote government action on six tobacco control strategies in-line with the WHO FCTC to:
Monitor tobacco use and prevention policies.
Protect people from tobacco smoke.
Offer help to quit tobacco use.
Warn people about the dangers of tobacco.
Enforce bans on tobacco advertising, promotion and sponsorship.
Raise taxes on tobacco.
"One in 10 deaths around the world is caused by tobacco, but we can change that through MPOWER tobacco control measures, which have proven highly effective," says Michael R. Bloomberg, WHO Global Ambassador for Noncommunicable Diseases and founder of Bloomberg Philanthropies. "The progress that's been made worldwide - and documented throughout this report - shows that it is possible for countries to turn the tide. Bloomberg Philanthropies looks forward to working with Director-General Dr Tedros and continuing our work with WHO."
The new report, funded by Bloomberg Philanthropies, focuses on monitoring tobacco use and prevention policies. It finds that one third of countries have comprehensive systems to monitor tobacco use. While this is up from one quarter of countries monitoring tobacco use at recommended levels in 2007, governments still need to do more to prioritize or finance this area of work.
Even countries with limited resources can monitor tobacco use and implement prevention policies. By generating data on youth and adults, countries can, in turn, promote health, save healthcare costs and generate revenues for government services, the report finds. It adds that systematic monitoring of tobacco industry interference in government policymaking protects public health by shedding light on tobacco industry tactics. These include exaggerating the economic importance of the tobacco industry, discrediting proven science, and using litigation to intimidate governments.
"Countries can better protect their citizens, including children, from the tobacco industry and its products when they use tobacco monitoring systems," says Dr Douglas Bettcher, Director of WHO's Department for the Prevention of Noncommunicable Diseases (NCDs).
"Tobacco industry interference in government policy-making represents a deadly barrier to advancing health and development in many countries," says Dr Bettcher. "But by monitoring and blocking such activities, we can save lives and sow the seeds for a sustainable future for all."
...
Note for Editors:
Tobacco use is the leading single preventable cause of death worldwide, killing over 7 million people each year. Its economic costs are also enormous, totaling more than US$ 1.4 trillion in health care costs and lost productivity.
The WHO Report on the global tobacco epidemic will be launched on 19 July 2017 on the side-lines of the UN High-Level Political Forum on Sustainable Development in New York.
Controlling tobacco use is a key part of the 2030 Agenda for Sustainable Development. The Agenda includes targets to strengthen national implementation of the WHO FCTC and a one third reduction in premature deaths from NCDs, including heart and lung diseases, cancer and diabetes. Tobacco use is a leading common risk factor for NCDs, which kill 40 million people each year, equivalent to 70% of all deaths globally, including 15 million people aged between 30 and 69 years. Over 80% of these "premature" deaths occur in low- and middle-income countries.
...
A "Frank Statement" for the 21st Century?
British Medical Journal Tobacco Control Blog, 19 Sep, 2017
http://blogs.bmj.com/tc - Direct URL: http://tinyurl.com/ya429sh9
Ruth E. Malone, Simon Chapman, Prakash C. Gupta, Rima Nakkash, Tih Ntiabang, Eduardo Bianco, Yussuf Saloojee, Prakit Vathesatogkit, Laurent Huber, Chris Bostic, Pascal Diethelm, Cynthia Callard, Neil Collishaw, Anna B. Gilmore
The surprise announcement by the former head of the World Health Organization's Tobacco Free Initiative, Derek Yach, that he would head a newly-established organization called the "Foundation for a Smoke-free World" to "accelerate the end of smoking" was met with gut-punched disappointment by those who have worked for decades to achieve that goal.
Unmoved by a soft-focus video featuring Yach looking pensively off into the distance from a high-level balcony while smokers at ground level stubbed out Marlboros and discussed how hard it was to quit, leading tobacco control organizations were shocked to hear that the new organization was funded with a $1 billion, twelve-year commitment from tobacco company Philip Morris International (PMI).
PMI, which has been working for decades to rebrand itself as a "socially responsible" company while continuing to promote sales of its top-branded Marlboro cigarettes and oppose policies that would genuinely reduce their use, clearly believes this investment will further its "harm reduction" agenda, led by its new heat-not-burn product, IQOS. But don't worry, the Foundation assures everyone that "PMI and the tobacco industry are precluded from having any influence over how the Foundation spends its funds or focuses its activities."
Except that is what a broad range of industry front groups, sometimes headed by respected and even well-intentioned leaders, have been saying since the "Frank Statement" of 1954. The long and sordid history of the industry's funding of "research," a major part of the mission of this new foundation, is replete with exactly this sort of blithe reassurance, as Yach himself pointed out in an earlier time. In reality, nothing has changed.
The "research" really isn't the point anyway. The mere fact of having landed Yach is a major public relations coup for PMI that will be used to do more of what the industry always does: create doubt, contribute further to existing disputes within the global tobacco control movement, shore up its own competitive position, and go on pushing its cigarettes as long as it possibly can.
In the video, Yach invites "everyone" to join the "movement" this new organization is starting - implicitly dismissing the past 40 years of tobacco control activism and advocacy and 60 years of tobacco industry lies and duplicity. Leaders of active existing civil society coalitions like the Framework Convention Alliance and the Noncommunicable Disease Alliance were blindsided. Contrary to the video's claim, there is no shortage of "fresh thinking" in the already-vibrant, already-existing global movement to end the tobacco epidemic. There are many great "endgame"- furthering ideas now being actively debated, studied, and tried out: the primary obstacle to implementing them is the tobacco industry.
PMI hasn't stopped opposing the policies that would reduce tobacco use, has it? No: recently leaked documents show that PMI continues to actively oppose any policy that could genuinely reduce tobacco use. Countries around the world identify the tobacco industry as the single biggest barrier to progress in implementing such tobacco control policies. This "new" initiative is just more of the same lipstick on the industry pig, but in a way it's far worse this time: by using a formerly high profile WHO leader as a spokesperson, PMI can also accelerate its longstanding ambition to splinter the tobacco control movement.
It's also not true, as the video suggests, that tobacco control efforts have "plateaued." Cigarette consumption is declining and since 2003, more than 180 countries have become parties to the World Health Organization Framework Convention on Tobacco Control (FCTC), committing themselves to implement effective policy measures and building public support for ending the epidemic. PMI knows this, hence its ongoing, covert and overt efforts to stymie the FCTC. For example, at the last Conference of the Parties, the meetings where implementation of the treaty is discussed, tobacco farmers organized by PMI demonstrated outside the venue and PMI representatives met secretly with delegates to the meeting.
The company hasn't announced it is going to stop promoting cigarettes to kids in Africa and Asia, has it? No: in fact, it's developing "stronger" products for some markets, and continuing to aggressively promote Marlboro cigarettes to the young through campaigns like "Be Marlboro". Despite decades of developing and then abandoning so-called "reduced harm" products, cigarettes remain PMI's biggest moneymaker, dwarfing anything else. Only the profoundly naïve will believe that PMI is not solely promoting its self-interest in supporting this new "foundation".
In fact, the announcement came the day after a huge win for tobacco control: the exclusion of tobacco companies (as well as makers of cluster bombs and some other unsavory actors) from membership in the United Nations Global Compact, due to their incompatibility with responsible business principles. Tobacco control leaders across the globe are convincing governments to protect health policymaking from tobacco industry influence, in line with Article 5.3 of the FCTC. PMI's response is a new industry sponsored entity, eager to work with governments. From its inception, this organization will constitute a challenge for Article 5.3 implementation.
The timing of the announcement was interesting in another way: just the day before, a new global health initiative led by former US Centers for Disease Control head Tom Frieden was announced, with $225 million in funding from Bloomberg Philanthropies, the Chan Zuckerberg Initiative and the Bill & Melinda Gates Foundation. While this initiative does not focus solely on tobacco, these funders know how much tobacco contributes to disease and death worldwide. They are also funders who have unequivocally taken positions supporting the strong policy measures that work.
What is required to end smoking isn't helping the world's leading cigarette manufacturer in its ongoing image makeover while it continues to try to derail the significant public health progress made to date. What is required is leaders who have the humility to work with the movement and policymakers with the backbones of steel needed to stand up to the industry to enact and implement strong tobacco control measures, including high taxes, smokefree laws, effective media campaigns to denormalize both smoking and tobacco companies, and marketing, packaging and retailing regulations to make these deadly products less ubiquitous. The global movement public health activists built over decades of toiling in the trenches must stand together and not allow PMI to buy more time by executing a 21st century version of the "Frank Statement."
AfricaFocus Bulletin is an independent electronic publication providing reposted commentary and analysis on African issues, with a particular focus on U.S. and international policies. AfricaFocus Bulletin is edited by William Minter.
AfricaFocus Bulletin can be reached at africafocus@igc.org. Please write to this address to suggest material for inclusion. For more information about reposted material, please contact directly the original source mentioned. For a full archive and other resources, see http://www.africafocus.org