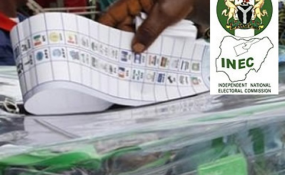 Photo: Premium Times
By Kehinde Olatunji
The Prof. Mahmud Yakubu-led Independent National Electoral Commission (INEC) made history recently when it quietly launched its online newspaper, INECNEWS.Com. The innovation is the first of its kind among public institutions in Nigeria, although interactive websites and hard copies of occasional newsletters are a common feature among government agencies.
The platform, which became fully operational in September, has all the features of a daily online newspaper. It has nine sections, including 'News' and 'Features,' which dish out reports about the goings on at the commission. A review of the site reveals a variety of stories and incisive interviews that election experts, researchers and various stakeholders will find quite useful.
For instance, page seven contains an interview titled 'How INEC Can Achieve Success in 2019 General Elections by Mohammad Kuna,' which discusses a number of steps the commission intends to take to achieve success in the 2019 general elections. Kuna, a Professor of Sociology, is the Special Adviser to the INEC Chairman. Readers will find another interview titles 'Rigging an Election is Now More Difficult, Says Anthonia Okoosi Simbine' quite engaging. It shows the measures the Commission has put in place to ensure the integrity of the electoral system, with specific details about the Edo governorship election. Anthonia Okoosi Simbine, a Professor of Political Science, was a researcher at the Nigeria Institute of Social and Economic Research (NISER) in Ibadan, Oyo State before she was appointed a National Commissioner.
Yet another incisive interview titled 'How Politics of Winner takes all weakens Nigeria's democracy, by Bolade Eyinla' analyses the political culture in Nigeria and links it to the do-or-die attitude to politicians among the active players. Eyinla, a Professor of History, is also an election expert, who has been involved in many electoral processes in Africa, especially in the West African sub-region. He is the Chief Technical Adviser to the INEC Chairman.
There are also three insightful interviews on page six. In one of them, titled 'European Union's Priority is to Sustain Democracy in Africa,' the former Head of the European Union (EU) Delegation to Nigeria, Ambassador Michel Arrion, spoke extensively on the support by the EU to INEC, with the overall aim of nurturing democracy in Nigeria.
In 'Zakari advocates review of representative law to favour women,' Mrs. Amina Zakari, a National Commissioner, emphasised the need to have more women participating in the electoral process. In the same vein, another National Commissioner, Dr. Mohammed Mustafa Lecky, in an interview titled 'Judicial Interventions in elections should be reviewed,' discussed the frustration often encountered by INEC in carrying out its mandate due to constant judicial interventions in the electoral process.
According to the Chief Press Secretary to INEC Chairman, Mr. Rotimi Lawrence Oyekanmi, the sheer magnitude of newsworthy events taking place on a daily basis at the commission's headquarters in Abuja, state and local government offices cannot be entirely accommodated by the existing traditional and social media platforms in the country.
According to him, "No doubt, we currently enjoy tremendous support from the media. But from my observation, traditional and online newspapers, television and radio stations have competing demands and other economic considerations that often compel them to ration the space or airtime allocated to news about INEC. And sometimes, stories about INEC are distorted or not put in proper context. So we felt that having an online newspaper, where our stakeholders can go and obtain detailed information about the goings on at the commission nationwide was desirable."
"INEC is a big bureaucracy with a long history. It is composed of a chairman, 12 national commissioners (there are 11 at the moment), 37 Resident Electoral Commissioners (15 are yet to be appointed), a Secretary, Directors and over 16,000 staff spread across its headquarters, state and local government offices. Within the headquarters, there are nine departments, 10 directorates and an Electoral Institute. So, you can imagine the level of activities going on at any point in time, which cannot be adequately covered by the media - activities that will be of interest to Nigerians. We need to have a mouthpiece to tell our stories accurately and objectively."