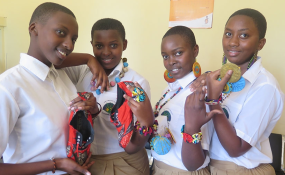 Photo: New Times
opinion
By Lydia Atieno
For any learner to become all-round, they ought to be equipped with a variety of skills, and this can be done through joining the different clubs at school, depending on their preferences. For instance, entrepreneurship clubs provide an avenue through which learners can acquire skills to cope with life outside school, either on the labour market or for job creation.
A number of schools in the country have embraced the initiative of having clubs and attest to the immense benefits that accrue from these activities. One such school is Lycée de Kigali. The school emerged winners of the National Youth Entrepreneurship Debate Championship, which was held in Kigali recently.
According to school officials, what goes on behind the scenes is actually what contributed to the win. They say the school has had an entrepreneurship club since 2007, and a lot of activities are carried out each and every year.
Bendit Iradukunda and Helimah Nakiyemba, both senior five students at the school, are president and advisor of the entrepreneurship club, respectively.
According to them, the club comprises students who are passionate about entrepreneurship. They always meet once in a week with mentors and business people from different fields, who mentor and skill them.
Among the activities they carry out, Iradukunda says, is a rocket pitch contest, which is an English spelling competition. According to him, this plays a big role in sharpening their skills in English language use.
Successes
From the club, Nakiyemba says they have established a small business of selling fruits to students. She says they have partnered with an outsider who has a 45 per cent stake in the business.
"It is from this business that we get money to run the activities of the entrepreneurship club," she adds.
Nakiyemba says thanks to the skills gotten from the club, a number of students have already started doing small business inside the school. For instance, a senior five student, Raymond Nshunti, makes note books and diaries which he sells to his fellow students.
Nshunti says he does custom-made items to suit specific individual needs.
"I sell the diaries at Rwf1,000 each. I am saving the money I earn and I hope to open up a bigger business after accumulating enough capital," he says.
Another student, Rodgers Murenzi who is in senior six, operates a trust finance saving, whose purpose is mainly to improve the savings culture among students.
"We have 25 members, and each member contributes Rwf2,000 per month. We started last year in January and we have so far been able to save about Rwf1,500,000," he says.
Murenzi says they buy and sell shares as a way of raising more capital, and they are aiming at investing in bonds in banks.
Yassip Casmir, another member of the club, has started making success cards which he sells to students in and outside her school.
All the members of the club attribute their success to the skills they have acquired from the club. They also testify that the discipline and values they have attained from the club have helped them to maintain good grades.
Iradukunda says since the club gives each and every member a chance to present their ideas, it has improved the way they respond to questions in class and also gives them confidence to defend their arguments during normal classes, which is another step in achieving their future dreams.
Importance of such clubs in schools
Valens Mushinzimana, the deputy headmaster in charge of discipline at Lycée
de Kigali, believes that schools should be in a position to provide holistic education.
The skills acquired in such clubs, he says, are tools that will help students create their own jobs after school.
"Schools should allow their students to come up with their projects, and support them where necessary. It's important because it broadens a leaner's thinking capacity, which is a vital survival skill outside school environment," he says.
Such clubs, Mushinzimana says, teach learners at an early age how to make their own money, and also the value of working towards a specific objective/goal, not just learning for the sake of finishing studies.
According to Stanley Mukasa, an entrepreneurship teacher at Akilah Institute for Women Kibagabaga, such clubs are an avenue of delivering support to young people to secure their economic future and enable businesses to grow as well as be in a position to create new jobs on their own.
"The problem of unemployment can be reduced when a learner comes out of school with skills that can enable them be independent, by either starting their own businesses or forming groups that involve different activities," he says.
On the other hand, Fred Ofuwa, an engineer at Arc Grid Consultant LTD in Kigali, entrepreneurship clubs in schools empower students with skills to innovate and employ themselves, which is a powerful tool in creating jobs and boosting the economy.
"Having an entrepreneurial attitude as a fresh graduate is becoming more necessary, and this calls for more to be done to promote such initiatives in the education system. Entrepreneurship clubs provide a chance for students to experience first-hand the actual challenges in the world of business and employment. Therefore it would be a noble idea for every school to embrace such clubs," he says.
When a student has an entrepreneurial mindset, Ofuwa says the probability of them being successful in future becomes high compared to when they are only loaded with academic knowledge and are only looking forward to white collar jobs.
Members of the club share experiences
Elizabeth Uwineza, S5 student
Since I joined the club two years back, I have learnt how to be more responsible, creative as well as improved my ability to express myself in English. Before, I used to think that starting up a business needed people who have a lot of money and experience, but there is a lot that can be done with whatever one has.
*****************************************************************
Caleb Mugisha, member of the club
I have come up with an idea of recycling waste paper at school which will start operating soon. The knowledge I gained from the club has opened my mind and I can see beyond just academic work. Schools should have such clubs to nature students' talents.
*****************************************************************
Emery Rwandanga, S6 student
At this age, I know how to handle money unlike in the past when I used to think that money matters were for grown-ups. The club has given me a chance to discover my potential and work on it without fear.
*****************************************************************
Shakira Umuratwa, S5 student
I have been able to use entrepreneurship skills not only at school but also at home, where I help my family with business. Co-operating with other people other than students and teachers has become easier because of the confidence I have now.