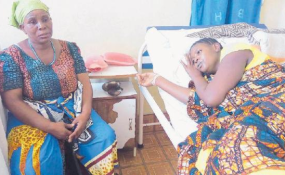 Photo: Johari Shani/The Citizen
By Twalad Salum
Bukumbi — Sophia Biambina, 32, a resident of Nyampande Village in Sengerema District lost two children after a minibus they were travelling in on Monday developed mechanical problems before plunging into Lake Victoria at Igongo Ferry in Misungwi District.
Ms Biambina told The Citizen on Tuesday, October 10, that together with her children they were travelling back home from a funeral held in Magu District.
Speaking while overwhelmed with emotions at Bukumbi Health Centre where she was receiving treatment, Ms Biambina noted that she could not recall what happened exactly after the minibus plunged into the lake.
"I don't know how I was rescued. I believe that only God saved my life. However, I swallowed a lot of water and I'm still in immense pains due to the injuries I sustained," she said, sobbing.
As she sobbed, it was easy to tell that she was in a deep sorrow due to the loss of her two children.
She explained that all the seats in the minibus were occupied, and that a few other passengers were standing.
Another survivor, Yohana Ngabula, 28, a resident of Buyagu in Sengerema District said he lost his mother and sister in the accident.
The family members according to Yohana had travelled to Mwanza City to make follow up on their father's retirement benefits with the National Social Security Fund (NSSF).
He says that after the vehicle plunged into the lake, he broke the vehicle's side window as rescuers saved him from drowning.
Narrating about the ordeal, he said that after realizing that the driver had failed to stop the vehicle, passengers advised him to direct the vehicle into a wall or hit vehicles that had pulled over awaiting to board a ferry.
"The driver ignored our advice and directed the vehicle into the lake," he said.
Twelve people were confirmed dead on Monday by Mwanza Regional Police Commander Ahmed Msangi. Only three survived the accident.
Mr Msangi noted that preliminary investigations showed that the minibus had developed mechanical problems in its breaks systems.
The bodies of the deceased have been preserved at the Bukumbi Health Centre while three passengers who survived are admitted at three different hospitals in the region.
Another survivor, Paul Lazaro, a resident of Ibisabageni Village in Sengerema District noted that he managed to escape through the window immediately after the vehicle plunged into the lake.
"The drivers' decision to drive the minibus into the Lake was bad, he could have saved more lives by driving the vehicle somewhere else," he said
The medical doctor in-charge of Bukumbi Hospital, Dr Robert Shija, identified the deceased as Joseph Paulo, Rehema Makalanga, Mariamu Kagosha, Pendo Msafiri, Salome Msafiri, Joyce Hamadi, Martha Makenzi, Gwanchele Mswagi, Ali Abdul and Kazungu Lukuba.
He identified others as Martine Kamalamo, a resident of Bukumbi in Misungwi District and Hamadi Zahalaki a resident of Bukoba District.
Mr Msangi told The Citizen yesterday through telephone that the rescue team was going on with operations to search for possible more dead bodies.