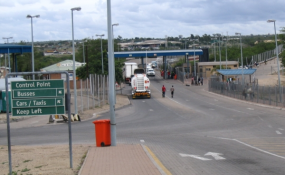 Photo: Faizel Slamang/GroundUp
Zimbabwe and South Africa need synchronised information communication technology systems to enable them to establish and operate an efficient One Stop Border Post (OSBP) at Beitbridge, an expert has revealed. The trade expert cited ICT systems among other key factors as basic enablers for the creation of the OSBP at Beitbridge aimed at achieving seamless flow of human and vehicular traffic.
Zimbabwe and South African Governments recently stepped up efforts to fast-track longstanding plans for the operationalisation of the Beitbridge OSBP by appointing a Joint Technical Committee to develop the necessary legal framework for the project. Keynote speaker, who is also legal, trade, transport and logistics expert, Mr Francis Chirimuuta, told delegates during an awareness meeting in Harare organised by the Ministry of Industry and Commerce this week that a synchronised ICT system at bilateral level, was critical for the project to succeed.
"In establishing the concept of a One Stop Border Post, we must take into account these critical elements. We will need a custom built facility, which achieves a seamless flow for users and agency officers, we need border management network where ICT and data sharing is established between the agencies of one country and also bilaterally between agencies of both countries. One of the key payoffs of the OSBP is that it reduces time, obviously it also has an impact on the course of trade if time is reduced. For instance at Chirundu in 2009 it took 120 hours to clear a truck and in 2012 it reduced to 25 hours. That was a massive improvement as it had a ripple impact on the trade inflows," he said.
According to recent reports, the Chirundu OSBP has resulted in time saving valued at $600 000 a day and traffic increase by 65 percent, while trade flow to Zimbabwe increased from about $2,2 million to $3,1 million. Zambian Government revenue increased to $20,3 million in 2012, up from $10 million a month in 2009. A number of experts also suggested that since Beitbridge Border post was the busiest port of entry in Sub Saharan Africa, the creation of the OSBP would result in huge rewards for the two countries. The awareness meeting was attended by officials from the Ministry of Industry and Commerce, members of the Cross Borders Association among others.