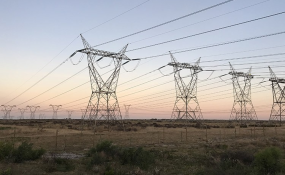 Photo: Brent Meersman/GroundUp
By Blessings Chidakwa
The Zimbabwe Electricity Distribution and Transmission Company (ZETDC)'s southern region which covers the Midlands province has lost equipment and infrastructure valued at $1,3 million due to vandalism and theft since January this year, an official has said. The power utility has also reported 1 559 cases of vandalism and theft on its property to the police, leading to the arrest of some suspects since January. In an interview on the sidelines of the ZEDTC employees clean up campaign in Gweru last Friday, the power utility's general manager southern region, Engineer King Dube said vandalism of the company property had been of major concern in recent years.
"During the period January to August 2017, ZETDC was again not spared from the scourge of theft and vandalism as there was an increase in cases of interference with electricity networks, with 1 559 cases recorded. Materials and equipment valued at $1 284 828 were stolen," he said.
Eng Dube commended efforts by the police, which saw the power utility managing to recover some of the stolen equipment.
"Of the over a million worth of equipment stolen, ZETDC, with the help from police managed to recover nearly half of the amount and we commend their efforts in helping us fighting this scourge," he said.
Eng Dube said the power utility needed close to $2 million to purchase and replace the stolen equipment that included transformers. ZETDC southern region joined hands with Gweru and other town councils in the Midlands province in clean-up campaigns on Friday last week, where the power utility also took advantage of the occasion to raise public awareness on the need to avoid vandalism. The officials also urged residents to save electricity.
"The theme for the campaign was 'Team up to Clean up Environment, Vandalism, and Electricity Theft. It had a strong bearing on the need for collective effort in keeping the environment clean at the same time trying to curb vandalism and electricity theft,'" said Eng Dube.
The clean-up campaigns were done in Kwekwe, Zvishavane, Redcliff, Chivhu, Mvuma, Shurugwi, Gokwe, Mataga, Gokwe Nembudziya and Nkayi. ZETDC also donated litter bins to the towns and food hampers to some elderly in the communities.