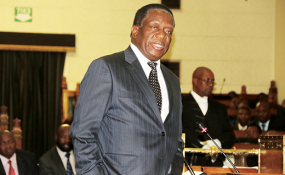 Photo: New Zimbabwe
Outspoken MDC-T legislator Eddie Cross has distanced Vice President Emmerson Mnangagwa from any corrupt activities in the country in unsolicited comments likely to invite a backlash from his own party.
Writing on his website at the weekend, the Bulawayo MP likened Mnangagwa to his own MDC-T leader Morgan Tsvangirai, whom he said has been unfairly placed on the wrong end of fate through chronic ailment.
Tsvangirai is battling colon cancer and has taken time off public life to recuperate from nearly two weeks of treatment in South Africa recently.
Similarly, VP Mnangagwa was also taken ill to South Africa following poisoning fears at President Robert Mugabe's youth interface rally in Gwanda, August this year.
Cross, in his comments, took time to lament Tsvangirai's near incapacitation which he said has placed him on the edges of a protracted and brave fight for democracy against President Mugabe.
"Life can be a bastard at times," Cross said of Tsvangirai's misfortune.
Mnangagwa praise
He then turned to Mnangagwa whom he said was a prominent politician who has had his own share of misfortunes.
"And if you think that is a tough situation - just think about Emmerson Mnangagwa who in the past two weeks has just recovered from being poisoned at a Zanu PF Rally, been lambasted publicly on several occasions by the so called 'First Lady' and now humiliated in public by the President - someone whom he has loyally supported all his life," Cross said.
He continued: "So often in the past 50 years, Emmerson Mnangagwa has taken the heat for Mr. Mugabe, it was the Vice President as Chairman of the Joint Operations Command who gave Zanu PF their two thirds majority in 2013 and returned Mr. Mugabe to State House for another 5-year term.
"An effective, even brilliant organiser he has held the State captive for Zanu PF.
"One of the very few Zanu PF Ministers whose hands are relatively clean of corruption he has survived in the Shark Tank - but now is under sustained and coordinated attack."
Cross has been a strong advocate against corruption both in parliament and outside.
Mnangagwa, top aide to President Mugabe for decades, has seen the world crumble around him following claims he harboured a plot to remove the Zimbabwean leader from power.
Embattled VP
The claims have been followed by persistent humiliation by the first family which has not hidden its displeasure with the Midlands strongman's desire to become President.
Mnangagwa's backers, top among them controversial musician and businessman Energy Mutodi, have led claims his poisoning was an attempt on his life by party rivals.
Outside his current troubles within Zanu PF, the VP has been known to be a ruthless Zanu PF loyalist who has stopped at nothing to protect President Mugabe's rule.
Mnangagwa is accused of taking a prominent part in the killing of an estimated 20,000 civilians in Matebeleland and Midlands provinces in the early 1980s.
His name featured prominently again in the killing of an alleged 200 MDC-T supporters during the 2008 Presidential run-off election.
Mnangagwa has never made an attempt to clear his name from blame.
Tough call
But Cross still felt the VP did not deserve his current troubles even going by the standards of his brutal past.
"Many will argue that those who live by the sword will die in the same way, but still it's a tough call for a man whose whole life has been dedicated to his Party and the State President, even though he knows full well, that the President, more than any other person, is at the very center of our problems and must go or the country runs the risk of either armed conflict, a coup or simply becoming a failed State," he said.
"And if you think that these two gentlemen (Tsvangirai and Mnangagwa) have been given a tough ride by life, just think about the rest of us.
"We have had our entire life savings wiped out and it looks like it's happening again, we have suffered under a Military Junta of sorts and the ravages of life under a totally corrupt regime for 37 years and it shows no signs of going unless forced.
"Where does that leave us - just depending on God for our survival and for some sense that the struggle is worth it and that we must carry on."