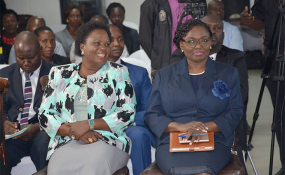 Photo: The Observer
By Tobbias Jolly Owiny
Gulu — A disagreement has erupted among leaders of Acholi Sub-region over what practical method the eight districts can adopt to curb rampant land wrangles in the area.
The districts are characterised by land wrangles following the return of thousands of internally displaced persons to their homes.
The area is recovering from a two-decade Lord Resistance Army (LRA) insurgence.
Land in this area is communally owned and registered under the customary land tenure system.
Acholi leaders are now contemplating whether to rally their people to support government's plan for the Certification of Customary land Ownership (CCO), where all residents on communal land are being registered or the creation of a Land Trust that will be the custodian of all the land.
At a regional meeting organised by Joint Acholi Sub-region Leaders' Forum (JASLF) in Gulu Town last weekend, the leaders expressed divergent opinions on the matter.
JASLF was formed in 2011 and it comprises Acholi LCV chairpersons, religious leaders, civil society, legislators, and the chief with a view to find solutions to the land question in the sub-region.
Last year, State minister for Lands Persis Namuganza launched the certification of customary land ownership in Nwoya District with support from ZOA's Land Security and Economic Development project.
In 2015, the Forum undertook a study to investigate and document how Acholi land can be managed.
Over the weekend, they unveiled the research results showing that customary land owners wanted to have their land registered under a trust, instead of CCOs, although the leaders were divided over the matter.
Nwoya District chairman Patrick Okello Oryema argues that once a trust is created to manage customary land in Acholi, it will breed corruption as well as promote mistrust and more wrangles among the communities.
"Certification of customary land ownership (CCOs) is the best way to go now. How do you entrust your land to a board of trustees who may not be trustworthy. Supposing they sell off the land or use it for selfish interests or if the board is bribed by grabbers?" Mr Oryema says.
He adds that CCOs do not require annual payments of fees and premiums.
"And because our people are vulnerable and poor, they need to use a method that will individually empower them to have a voice on their land," he says.
In Alero Sub-county, Nwoya District alone, 24,704.4 acres out of 45,870.3 were surveyed last year, while 871 acres were surveyed out of 1,003 applications received. Of these, 851 had their certificates processed and issued this year.
Although Amuru District has also adopted CCOs and is being implemented in at least two sub-counties of Lamogi and Amuru, Mr Wilfred Babanga, the programme officer of the project, says they have been limited by disputes during the process. He adds that others labeled it a ploy to take away their land.
Mr Julius Ojok, a lawyer in JASLF technical committee says managing customary land in Acholi under a trust is the best idea since there are a lot of loopholes in the CCOs.
"The CCO concept was not properly studied and analysed because what is now happening is that people are registering their homesteads and gardens including grazing and hunting grounds, which are communally owned. There is no doubt that other crises await our people due to these CCOs," Mr Ojok says.
He adds that the personnel who built the CCOs concept and are carrying out the registration/mapping do not understand Acholi customary systems. He says they never provided for those yet to be born and visitors or friends hosted on Acholi land.
"It only talks about exclusive ownership rights such that if I register communal land in my name, it is possible that my children will next time chase away all their other relatives. It does not cater for those yet to be born," he added.
He notes that a trust will do better in this case because with CCOs, whoever registers the land on behalf of the others may make it a collateral for getting bank loans and the banks may take away the land in case they default.
However, Ms Lilly Adong, the vice chairperson of Acholi Parliamentary Group, also Nwoya District Woman Member of Parliament says there is no need for disagreements among Acholi leaders since the two methods can be amalgamated.
"There is no problem with our people certifying their land under CCOs as well as having a trust in place. This will be double security for the people of Acholi to defend their land from grabbers and unnecessary wrangles," she says.
Ms Adong explains that unless the context of creating the trust is different from what she thinks, then leaders of Acholi should agree and use both alternatives but in a harmonious way.
According to Rtd Justice Galdino Okello, the chairperson Advisory panel JASLF, it is paramount to conduct a comprehensive exercise (trust creation) to protect land in Acholi considering their survey findings.
Between December 2015 and April 2016, 14 researchers deployed in the seven chiefdoms of Alokolum, Atiak, Koyo, Orom, Paico, Paimol and Payamo interviewed 1,500 people.
"All the land in the research sample was customary communal land and it belongs to recognised patrilineal kinship clans. None of the 46 sampled customary land was owned by individual men or women. They wish to have the land registered," he says.
He notes: "Acholi people had provisions for friends and refugees and other formerly married women who returned home, including nephews and nieces who are peacefully accommodated on customary land and this can only be continued under a trust which provides for that."
Mr Michael Lakony, LCV chairman of Amuru District told Daily Monitor that he will only rally his people to go for a system that will allow them own land communally.
"I have seen some gaps already with CCOs but if it can be revised to let it cater for the past, present and the unborn, that will be okay because that will help us minimise fights in future over land since the current provisions are limited," he says.