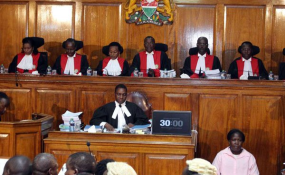 Photo: Jeff Angote/Nation
By Sam Kiplagat
Five Supreme Court judges will Wednesday morning hear an application by the electoral commission seeking clarification as to how to treat discrepancies in the results forms.
In submissions filed in court, Independent Electoral and Boundaries Commission (IEBC) has stated that the application is not a review of the September 1 Supreme Court judgment.
The commission further said it is not an appeal against a decision of the Court of Appeal, popularly known as the Maina Kiai case, which ruled that the results once announced at the polling centres are final.
MAJORITY DECISION
Through lawyer Kamau Karori, IEBC maintained that whereas the Supreme Court upheld the Maina Kiai case, the judges in the majority decision explained that among the reasons they annulled the election is because the commission did not verify the results by comparing Forms 34B against the results electronically transmitted Forms 34A.
In the Maina Kiai decision, the court ruled that the only verification the presidential returning officer can do is to confirm that the candidate has met the constitutional threshold stated in Article 138(4) of the Constitution.
They said Article states that a candidate must garner more than half of all votes cast in the election and at least 25 per cent of the votes cast in more than half of the counties.
However, the Supreme Court faulted Mr Wafula Chebukati, who is national Returning Officer for presidential election, of announcing the winner before comparing the results in Forms 34A and 34B.
TALLYING
The court stated "there can be no logical explanation as to why in tallying the Forms 34B into Forms 34B into the Forms 34C, this primary document (Forms 34A) was completely disregarded."
Mr Karori said to IEBC's understanding, the national Returning Officer is expected to compare the results in Forms 34A against the tallies of those results in Forms 34B.
"The result of such as exercise would either establish that the tallying in Forms 34B are correct or that there are discrepancies or differences between the results in Forms 34A and the tallies of those results in Forms 34B," he said.
He said it is clear to Mr Chebukati that he must await receipt of all Forms 34A electronically transmitted and compare them with the tallies in Forms 34B. However, it is not clear what he should do if there are any discrepancies.
National Super Alliance will be arguing that the court has no jurisdiction to hear the case.