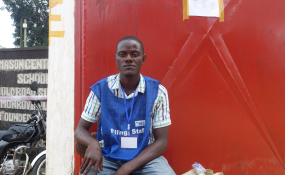 Photo: Boakai Fofana/AllAfrica
By Lennart Dodoo
Monrovia — Polls are closed at some centers across Liberia while other centers are still overcrowded with many registered voters who are yet to cast their votes standing in queues.
Poll agents at the Unification Town Hall at the Fair Ground in Grand Bassa County have expressed fear that voting may continue until midnight or tomorrow morning due to hundreds of voters who are still in the polling center wanting to cast their votes.
The Electoral supervisors at the Fair Ground in Bassa say the situation is due to disarrangement of voters ID in the voters roll which has made it difficult for poll workers to identify the precincts people with valid voters IDs are to vote.
In Monrovia, some polling centers have begun counting, but with lamps while others are also still voting.
The National Elections Commission (NEC) realizing the delay in the voting process has extended voting time, asking that all registered voters who were queues before 6:00 PM should be allowed to vote.
But reports gathered by FrontPageAfrica say some voters at Don Bosco on 8th Street, Sinkor, Barns Foundation School in Lakpazee Community were still in queues when the centers were closed by poll workers.
Ben Mulbah told FrontPageAfrica that he had to wait a while to allow the crowd to reduce before voting but to his surprise, he was still on the line when time elapsed and process was cut off.
"I am feeling too bad because I never voted; I came this morning but the line was too ling that I couldn't vote but when I came back I still met a long line that could not still permit to vote. I am hurt, I am disappointed and i am feeling bad, but I can't blame that on NEC," he lamented.
Kebbeh Morris is another victim who said she could not vote because the time caught up with her, "I am going home, I don't have anything to lose here, after all, when those guys win it's their families that will enjoy not me," she said.
Matadi Baptist School is another polling center that left voters in queues and closed the process. Joseph Menguye, an elderly man who was disenfranchised said he blames the polling staffs for not being effective and efficient on the job.
"We came but we were doing our own thing and no body to help us in the process, I came ever since but I was on the wrong line and I reached to vote, the poll workers told me I should go on the other line and that line was too log for me; we were about 30 persons that never voted because of that," he said.
Most registered voters could not vote because their names and voter ID numbers could be found in the voters roll and index respectively.
Over 50 registered voters at the New Jerusalem Polling Center in Pipeline Community, District #3, Paynesville were sent home when polls officially closed.
According to reports, the situation is the same at some polling centers across the country.
Already, some citizens in Bong County have expressed their disappointment over the absence of their names in the voters register and made an appeal to National Elections Commission to allow them to vote.
Willie N. Tokpa, Edwin Genoway and Solomon W. Y. Watkins contributed to this report