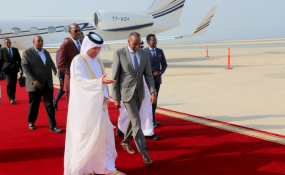 Photo: Shabelle Media Network
According to a leaked letter released by Galmudug Presidency, and obtained by Shabelle Media Network, President, Ahmed Dualle Gelle "Haaf" wrote to Thomas B. Coleman, Managing Director, Levant Suez Consulting Corp based in Houston, Texas USA.
Read the letter below:
On behalf of Somali Federal regional States of Galmudug, Southwest State and Hirshabelle, I am writing to gain your urgent support and immediate intervention with the government of the United Arab Emirates.
As you are well aware, the central government of Somalia has decided not to support the coalition governments including the UAE about the current ongoing crisis in the Gulf States.
This very decision of the central government goes against the will and financial benefit of the majority of Somali citizens.
We cannot stand idly by while the central government chooses in a way that is detrimental to the greater good of this country. Therefore, we are currently in discussions to publicly announce our tri-state support for the government of the United Arab Emirates.
We kindly ask you, to intervene with the government of the United Arab Emirates on our behalf to secure our operational budgets of $15 million per month, to be equally divided between our governments, for the next 12 months.
These funds are needed so that our governments may continue to function and provide services once our positions are made public.
This is a decision that we did not take lightly and we understand it could have immediate repercussions.
Thank you for your assistance in this urgent matter and we await your immediate reply.
Sincerely,
H.E Ahmed Dualle Haaf
President of Galmudug State
Scroll down for the pictures of Thomas B. Coleman.