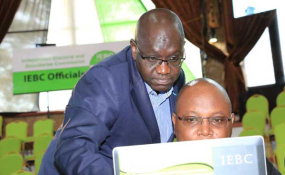 Photo: Kanyiri Wahito/Daily Nation
By Jemimah Mueni
Nairobi — The High Court has ordered the Independent Electoral and Boundaries Commission (IEBC) to include Thirdway Alliance candidate Ekuru Aukot in the October 26 fresh presidential election.
Justice John Mativo ruled that he did not see any reason for Aukot to be barred from participating in the fresh election, considering he was enjoined in the case that nullified the presidential election.
"The exclusion of the petitioner from ballot in the election of scheduled October 26 is a violation his right to political participation," Justice Joseph Mativo ruled.
"I find that his petition has merit and consequently I find that petitioner's rights under article 38, 27 and 140 sub article 3 of the Constitution have been and continued to be infringed, violated and or denied by the 1st and 2nd respondents failure to include him as a presidential candidate in the fresh elections scheduled for October 26," Mativo said.
"An order be and is hereby issued compelling 1st and 2nd respondent to immediately issue a fresh gazette notice include the petitioner herein as presidential candidate for Third Way Alliance,"