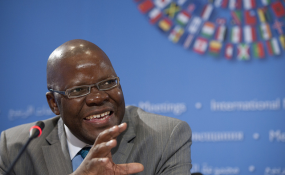 Photo: IMF /Cliff Owen
By Wendy Muperi
Opposition People's Democratic Party (PDP) leader and constitutional lawyer Tendai Biti has vowed to take government to court for failure to formulate property rights laws which eliminate women oppression.
Biti said the current 99-year land leases issued by government expose women to being destitute and losing everything they would have worked for when their spouses decease or divorce.
"The 99-year leases based on the offer letters from government are a strange arrangement, the result is that women lose everything in case of a divorce, Marian Chombo and Jocelyn Chiwenga walked with nothing," said Biti during an address to people who attended Women's Comfort Corner Foundation.
Chombo and Chiwenga, who are ex-wives to Finance minister Ignatius Chombo and army boss Constantine Chiwenga respectively, lost ownership of their farms when they divorced.
He said the arrangement must be challenged adding women who live in the rural areas find themselves in more difficult situations.
"While the law secures the matrimonial home for women, the principle cannot be applied for rural women who upon divorce get chased away like a dog because the home belongs to the natives the Museyamwas and the Chirashas," he said.
According to the PDP leader, countries like Zambia have already developed the law to a level where rural homes are valued by professionals for purposes of a divorce.
Biti told the meeting that the new battle was for asserting socio-economic rights particularly those women and children.
In a brief overview of his intentions he said he was working on a constitutional case on the right to housing, adding that the case would be heard by the constitutional court this month.
The former finance minister lamented government's failure to enact a law which actualises the judgement of the constitutional court on child marriages.
"I am disappointed by the fact that there is no legislation following the judgement of the 20th of January 2016, the law must have been rationalised by now.
"This has not happened because our country is arrested by ugly, toxic and predatory politics."
The Women's Comfort Corner Foundation awarded Biti a gold certificate in recognition of the work he has done. The Constitutional Court also received an award for the Mudzuru judgement which abolished child marriages.