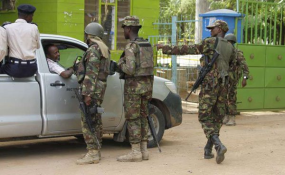 Photo: Jeff Angote/The Nation
By Kalume Kazungu
More than 10 administration police officers escaped death after the vehicle they were travelling in narrowly missed running over a bomb on Tuesday evening.
Security agents suspect Al-Shabaab planted the Improvised Explosive Device (IED) at Mambore-Mkokoni Junction near the Kiunga KenGen Power Station in Lamu East, targeting the officers on patrol.
BOMB
Early Wednesday morning, Lamu County Commissioner Gilbert Kitiyo said an unknown number of heavily armed militants were hiding in the bushes and shot at the Land Cruiser when it evaded the IED.
A fierce 10-minute fire exchange ensued.
"Our officers responded immediately and managed to overpower the militants. They fled into the bushes. Luckily, all our officers escaped unhurt. It's only the Land Cruiser's windscreen that was broken. It was towards darkness when the incident happened so we are still waiting for more details from the ground," said Mr Kitiyo.
CRACKDOWN
Operation Linda Boni Director Joseph Kanyiri said the terrorists might have dropped the crude explosive device while fleeing from security agencies, who are conducting a massive crackdown on the militants in Boni Forest and the surrounding areas.
"All our men are accounted for safely. It was an experience though. The officers were in the area to uproot and banish the enemy when they were attacked. We will not relent. We have already launched a manhunt for the masterminds of the Tuesday evening attack on our police," he said.
On Monday, Kenya Defence Forces officers killed five terrorists at Bodhei on the Lamu-Garissa border and recovered six AK-47 assault rifles, 321 bullets, three grenades and explosives. Other terrorists escaped with injuries.
REPULSED
Mambore-Mkokoni Junction where police repulsed the attackers on Tuesday evening is about 100 kilometres from Bodhei. It lies within the Operation Linda Boni areas.
Mr Kanyiri said the general area in Lamu East and areas towards the Boni Forest are saturated with security agencies. He urged members of the public to volunteer information to win the war on terror.
Operation Linda Boni was launched in September 2015 to flush out Al-Shabaab militants from Boni Forest.