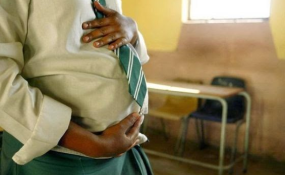 Photo: The Citizen
By Peti Siyame
Mpanda — AS the world observes International Day of the Girl Child today, Katavi Region is reported to be leading in teenage pregnancies in the country, with a prevalence of 45 per cent.
According to the latest report from the Ministry of Health, Community Development, Gender, Elderly and Children, nationally, the prevalence stands at 27 per cent. In the line-up, Katavi Region followed by Tabora (43), Dodoma (39), Mara (37) and Shinyanga (34) .
The report further states that about 14 schoolgirls in Nsimbo District Council in the region, have been reported to have dropped out of schools after being impregnated between January and June, this year.
Nsimbo District Council's Community Development, Ms Dianarose Mnuo cited lack of hostels, failure of the parents and guardians to protect them from 'temptations' and long distance from schools to have made the girls to be impregnated prematurely.
Expounding, she further said among the impregnated schoolgirl, five of them were studying at Ugala, Katumba and Kanoge and the rest from Katumba Secondary School (3), Nsimbo (5) and Sitalike (1) as indicated in the brackets.
According to Katavi Regional Commissioner (RC), Mr Raphael Muhuga explained that regionally, the day would be commemorated in Mpanda Municipality, since it was leading in the country.
Mr Muhuga said various activities including enlightenment would be offered to the public on the crime, especially to the parents and their guardians on how to reduce teenage pregnancies in the region.
According to the Tanzania Demographic and Health Survey and Malaria Indicator Survey (TDHSMIS) report of 2015, 27 per cent of girls got pregnant before they reached 18.
Meanwhile, the United Nations Population Fund (UNFPA) estimates that in the next 10 years, one million girls would be married before attaining the age of 18 years globally, with Sub-Saharan Africa being in the lead.